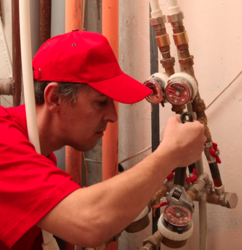 Seattle, Washington (PRWEB) January 09, 2013
Bob Oates Plumbing, Sewer, and Rooter recently set up pages on each of the most popular social media sites. The local plumbing company acknowledges the importance of social media in staying in touch with customers. By having a presence on Facebook, Twitter, and YouTube, Bob Oates Plumbing, Sewer, and Rooter will be able to update customers on special offers, while providing a forum for customers to ask questions about plumbing problems.
Bob Oates' Facebook and Twitter pages give the company a way to provide regular updates to customers. If the company adds a new staff member or acquires new equipment, the company's social media followers will immediately know about it. The plumbing business also plans to share relevant information about happenings in the Seattle community, including special offers by local businesses that can benefit their customers and fun upcoming events.
Through YouTube, Bob Oates is able to offer do-it-yourself tips, like the DIY Network videos he shares that help customers better understand their own residential plumbing issues. Bob Oates has also uploaded a video to his YouTube channel that introduces customers to his staff, giving an inside look at their offices and explaining the company's services.
"We are a complete service company, specializing in repair, installation, and replacement of damaged sewer lines," owner Bob Oates says in the video. "One of the most important things for my customers is fast service. When you call my company, Heidi takes the call, she dispatches a man, we're on the job within the hour."
Bob Oates Plumbing, Sewer, and Rooter is a full-service plumber that has won multiple awards from Angie's List for its stellar reputation in the Seattle area. The company puts customer service first, which is why Bob Oates looks forward to getting to know the Seattle community better through these social media channels.
To follow Bob Oates Plumbing, Sewer, and Rooter, click on the below links:

In business since 1984, Bob Oates Plumbing, Sewer, and Rooter provides toilet repairs, faucet replacements, roto rooter services, trenchless sewer repair, and much more. On its website, Bob Oates provides helpful tips under the DIY Repair section, which provides how-to articles on everything from troubleshooting hot water heater problems to garbage disposal issues. The company takes great pride in its work, with Bob Oates ensuring everything from work trucks to equipment are in the best possible condition at all times.
For more information on Bob Oates Plumbing's services, visit the company's website at http://www.boboates.com/ or call 206.789.4944. The company has extended hours for customer convenience and offers free estimates. All work is warranted against defects.
# # #