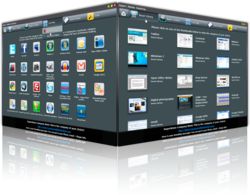 Formal education will make you a living; self-education will make you a fortune.
Jim Rohn
Henderson, Nevada (PRWEB) January 09, 2013
Smart Media Technologies is now offering its complete Smart Library to everyone at no charge through its PC App Home Page Pays. SMT used to offer its Smart Library for a $30 monthly subscription through schools and non-profits but is now making it available to everyone worldwide through Home Page Pays. SMT recognizes the importance of computer literacy for all people but also understands during these tough economic times not everyone can afford to pay for this education. By offering this service at no cost they can help more people enrich their lives.
Smart Library offers video classes on the latest and most popular computer software titles available today. It also has courses on other popular programs like Twitter, Facebook, My Space, eBay and the most in-demand software that employees are looking for. While SMT is not the first company to offer computer education through video they are the first to offer their courses at no charge.
Smart Media Technologies understands that employers no longer view computer illiteracy as acceptable and that many are out of work simply because they lack these basic skills. It is their hope that by offering these video courses at no cost they can help to reverse the downward economic spiral that seems to be gripping the world. "Bill Gross, manager of the world's largest mutual fund, said U.S. unemployment is now a structural, and not cyclical problem stemming from technology advances and the lack of retraining. "
About Smart Media Technologies
Smart Media Technologies is an Information Technologies company based in the US that offers many great products, services and business solutions. They also offer a wide range of products at no charge for individuals based on the principal of Edutainment, a fun way to learn through their PC App Home Page Pays.
To learn more about SMT's Smart Library and Home Page Pays visit their website at: http://smartmediaplay.com