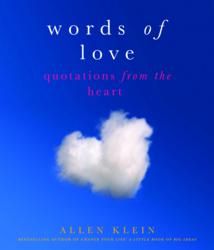 (PRWEB) January 09, 2013
It's early 2013 and everyone thinks the holidays are over. But for Viva Editions and Cleis Press, the biggest holiday is Valentine's Day, which we try to celebrate all year long. Here are some words to live and love by during Valentine's Day from Viva Editions, and words to heat up Valentine's Night from Cleis Press.
Words of Love: Quotations from the Heart
By Allen Klein
Words of Love is filled with best things ever said on matters of the heart. A veritable book of love, this collection of over 500 bons mots features the wit, wisdom and insight of everyone from Sophocles ("One word frees us of all the weight and pain of life: That word is love") to Cher ("If grass can grow through cement, love can find you at every time in your life").
Every Day Love: The Delicate Art of Caring for Each Other
By Judy Ford
Falling in love is easy; sustaining love is difficult. From the euphoric twinges of a new romance to the comforting reassurances of fingers entwined and connected, the longing for love is universal. Nationally renowned counselor and author Judy Ford says: "I've been studying relationships for over twenty-five years and I can testify to the fact that people still have much to learn about the nitty-gritty of loving." Within these pages, for the first time, Judy Ford presents her field-tested "love lessons" mined from private practice and workshops to help readers build and preserve successful relationships.
Seal It With a Kiss: Tips, Tricks and Techniques for Delivering the Knockout Kiss
By Violet Blue
A great kiss can stop traffic, start a five-alarm fire, and feel like Times Square on New Year's Eve. Bestselling author and columnist Violet Blue helps readers choose—and perfect—their very own unforgettable kissing styles. Learn how to time a kiss perfectly, how to deliver (and receive) a first kiss, a how to ask for kisses with body language. Recognize when someone wants to kiss, when to build tension, and when to take a kiss to the next level. Discover all the secrets and foolproof techniques for the perfect kiss in this indispensable guide to an overlooked sensual art.
Only You: Erotic Romance for Women
Best Erotic Romance 2013
Edited by Kristina Wright
What happens when love meets sex? Erotic love is that delicious blend of hearts and minds and bodies, a combination of sweet and intimate, surging and sensual. Sex by itself—hot, steamy, passionate sex—is one of the best things this life has to offer. And truly, so is love: first love, new love, love that has stood the test of time, love that has conquered every obstacle. Each of these masterfully written tales contains the essence of true romance: a central love story and an emotionally-satisfying, optimistic ending. Award-winning romance writer and editor Kristina Wright, with her cast of terrific romance authors, have crafted stories that touch the hearts and minds of readers, and can inspire real-life couples. Read what USA Today had to say about Best Erotic Romance 2013.
Morning, Noon and Night: Erotica for Couples
Edited by Alison Tyler
According to recent research, men think about sex twenty times a day, theoretically twice as much as women. Alison Tyler thinks about sex twenty-four hours a day and the result is Morning, Noon and Night, a sizzling collection of headily sensual stories featuring hot for each other couples whose love fuels their lust. From delicious trysts at dawn to naughty nooners, afternoon delights and all night long lovemaking sessions, Alison Tyler is your guide to twenty-four hours of sultry, slippery sex.