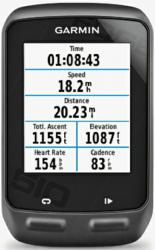 You can be tracked live by family, friends and coaches with just a smartphone in your jersey pocket
Bozeman, MT (PRWEB) January 11, 2013
Garmin Edge 510 and Edge 810 offer cyclists instant upload, tracking and direct linkage with smartphones according to the Heart Rate Watch Company. The units are touchscreen operational and the bundled versions also include an out front bike mount that greatly improves rider safety by placing the bike computer in front of the handlebars for safer viewing.
"These are the most technically sophisticated bike computers ever invented", says Rusty Squire, President of the Heart Rate Watch Company. He adds, "You can be tracked live by family, friends and coaches with just a smartphone in your jersey pocket - it is the best of all worlds."
The Garmin Edge 510 specifically has added a lot of features including touch screen technology, instant uploads and a barometric altimeter for more accurate on board altitude. "For the $30 in price increase over the Garmin Edge 500 the benefits far outweigh the small cost increase in our opinion," says Squire. He adds, "I think this - the Edge 510 - will become the single most popular bike computer of 2013."
For those that wish to add turn-by-turn directions and full color mapping the Garmin Edge 810 is perhaps the most sophisticated bike computer ever devised. "Edge 800 has all the instant upload, tracking and other features plus it brings car level navigation to a bike computer," says Squire.
The Garmin Edge 810 is out and available for immediate purchase and shipping according to Squire. "The Garmin Edge 510 is more likely due to be shipped in early February but the time to order one is now because demand is likely to be very high against initial production in our opinion."
The Heart Rate Watch Company sponsors the Rockford Cycling Team in conjunction with Garmin and riders are already out testing the units along with the new Garmin Edge out front bike mount. "We have gotten rave reviews on the out front bike mount for safety, visibility and stability, everyone on the team is very happy with it," says Squire.