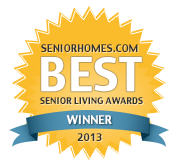 Seattle, WA (PRWEB) January 09, 2013
SeniorHomes.com, an online directory and resource for seniors and their families searching for senior care or senior housing, announces the third-annual Best Senior Living Awards (formerly SeniorHomes.com Best of the Web), a program designed to identify the top resources, people, providers and organizations in a variety of senior living categories.
Last year's awards resulted in more than 450 nominations and more than 6,500 votes overall. The 2013 Best Senior Living Awards is set to make an even bigger impact with the addition of new categories and other improvements.
Due to the larger scope, the company has re-branded its third-annual contest as the SeniorHomes.com 2013 Best Senior Living Awards.
"Each year, we strive to make improvements based on feedback and responses from previous programs," says Chris Rodde, CEO of SeniorHomes.com. "This year we've streamlined our categories as well as made several exciting additions, such as the Most Influential Caregivers and Most Inspiring Seniors categories. With the likes of Maria Shriver and Leeza Gibbons making such a huge impact in the senior living industry, it's important to recognize the selfless efforts of these individuals."
Nominations are open today to the public. Anyone can nominate a favorite personality, website, blog or other resource in the appropriate category by visiting SeniorHomes.com. Popular vote will determine which nominees will advance to the finalist round.
This year's categories include:
Consumer Resources

Most Inspiring Seniors
Most Influential Caregivers
Best Caregiver Websites
Best Caregiver Newsletters
Best Boomer Resources
Best Senior Living Blogs by Individuals
Best Senior Living Blogs by Organizations
Most Respected Senior Living Charities
Most Innovative Senior Living Products
Best Government & Education Resource Sites
Industry Recognition and Resources

Best Senior Living Provider Websites: Large Companies
Best Senior Living Provider Websites: Small Companies
Social Media Rockstars – Individuals
Social Media Rockstars – Organizations
Best Senior Living Industry Resources
Best Sales and Marketing Consultants
During the finalist phase, 18 judges hailing from all corners of the industry will evaluate nominees using a set of standardized rating criteria. This year's judging panel includes several experts returning for the third year in a row, such as Anthony Cirillo of 4ward Fast and Shelley Webb, Founder of Intentional Caregiver. A few new senior living experts have joined the rating panel this year, including Martha Stettinius, author of "Inside the Dementia Epidemic: A Daughter's Memoir" and Kathy Birkett, Founder and Publisher of Senior Care Corner.
Rating criteria has been carefully established on a category-by-category basis, using research determining the features of most value to the consumer or audience. Judging criteria includes:
Quality of content
Credibility and accuracy
Navigation and design
Usability
Frequency of posts
Other category-specific qualifiers
Nominations are being accepted through Monday, February 4, 2013 at 12:00PM Eastern Time. Finalists will be announced on Tuesday, February 5, 2013. Winners will be announced on Wednesday, February 20, 2013.
# # #