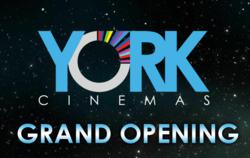 we are proud and excited to know that York Cinema will serve us better.
Richmond Hill, Ontario, Canada (PRWEB) January 09, 2013
York Cinema opened it doors for business on December 14, 2012. The grand opening was held on the second floor of York Cinemas which is located in Richmond Hill, Ontario. The event was attended by a large number of moviegoers, local residents and VIPs, it was broadcasted locally on a number of speciality channels. Logan Kanapathipillai, Markham counselor for the ward 7, was on hand to cut the tape and open the ceremonies. The opening was a successful event and gave us a first glimpse of York Cinema.
York Cinema which is the brainchild of a local business owner went through a massive renovation to achieve it current appearance. The location was previously a Cineplex movie theatre but was not in use for a number of years. The current owner had a master plan to redevelop the theatre to its past glory and has done a marvelous job to bring the complex to a pristine condition. York cinema is a 3-story complex which has 6 different screens. The owner has done a great job of renovating the place, it has strategically placed 70 in. monitors, live action billboards, gaming area, diverse offering of snacks and an appearance well worth the visit. Located just off the 404, on Hwy 7, the area is a thriving destination for entertainment with a great number of quality restaurants, hotels and other amenities.
The theater opened it door in hopes of taking advantage of the mass multiculturalism which persist in the Greater Toronto Area. Its goal is to bring the cinemas to an underserved market, in a geographically comfortable location. York Cinema is intending to play movies in a number of languages which includes but not limited to Hindi, Tamil, Persian, Telugu, Filipino and any other underserved markets. In bringing this service to the market, York Cinema hopes that they can help multiculturalism thrive and profit from its growth.
Local residents and attendee were excited about the prospect of going to the movies in a well set up location which they can feel comfortable in. ''For too long, we have been going to watch movies in subpar locations, we are proud and excited to know that York Cinema will serve us better'', said one attendee. Since this is a complex which is intended for the multicultural crowd, they will feel a bond with York Cinema and are sure to be repeat customers. The owner and management are in high spirits about the launch of their new venture and hope the multicultural community will support them going forward.