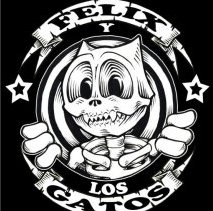 Santa Fe, New Mexico (PRWEB) January 08, 2013
Santa Fe dining institution and reliable entertainment hotspot Cowgirl has been serving the goods to visitors and locals when it comes to great food and music since 1993. During 2012, Cowgirl has brought entertainment in virtually every single night of the week, much to the delight of both locals and visitors.
From 8:30 -11:59 p.m., Friday, Jan. 25, 2013, Santa Fe Restaurant Cowgirl has scheduled Felix y Los Gatos to come play a selection of the bands various Zydeco, New Mexican rancheras and groovin' jazz swing songs for customers. Santa Fe, NM's premier on-line visitor guide SantaFe.com, has this event listed on the company's event calendar.
Felix y Los Gatos has been rockin' the southwest for over two years now. The band is made up of all star session musicians from the New Mexico blues and jazz scene. It all started when keyboardist Dave Barclay brought a button accordion to a blues jam. Since then a new fusion formed mixing zydeco, New Mexican rancheras and outlaw country with the improvisation of groovin' jazz swing. Cowgirls BBQ in Santa Fe New Mexico gave them a shot and the result was the Santa Fe crowd taking them in as part of the family. 500 gigs later Felix y los Gatos is in prime form. Just releasing the CD "Zydeco Tonight" the band is making quite a stir in the southwest region. Among the numerous gigs at bars, clubs, casinos, festivals, weddings, and corporate parties, the band has also played live on radio stations KSFR 90.7 fm and KBAC 98.1 fm and it is now in the daily rotation on KANW 89.1 fm. Just recently the band was filmed in a segment for a Travel Channel show with host Samantha Brown. The band owes big thanks to Frogville Records for taking it under wing and helping get a quality studio recording. The Band is about to go on the road and bring its Rockin Southwestern Americana to the whole southwest region. The Newspapers call their style "Zydejano" Look for gigs this summer in Telluride Colo, Austin TX, San Diego CA, as well as a Zydeco Festivals at locales around the country.
About Cowgirl:
Since 1993, the Cowgirl, which now occupies almost the entire block where it started, includes a restaurant, a billiard parlor, a commercial catering kitchen and several private party rooms. The patio is one of the most inviting summertime venues for locals and tourists alike and the Cowgirl has become a local institution.
Contact Information:
Barry Secular
Cowgirl
319 S. Guadalupe St.
Santa Fe, NM 87501
(505) 982-2565
About SantaFe.com:
SantaFe.com provides locals and visitors to Santa Fe alike the most current interactive platform for events, music, arts, business, dining and lifestyle. SantaFe.com is a division of Hutton Broadcasting, located at 2502 C. Camino Entrada, Santa Fe, NM 87507
Contact Information:
Scott Hutton
SantaFe.com / Hutton Broadcasting
(505) 471-1067 (Media inquiries only, please)