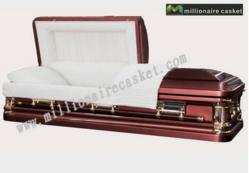 (PRWEB) January 09, 2013
Today, MillionaireCasket.com, a leading casket company, is excited to launch a casket promotion. Any customer or casket distributor can get a discount before Jan. 31, 2013.
Zoe Wong, CEO of the company, said, "The promotion is for this month only. Our products cover all kinds of metal caskets, wood caskets, veneer caskets, cremation caskets, rental caskets, and orthodox caskets. No matter if you are looking for a standard casket, or over-sized casket, you can find a suitable product here."
Zoe Wong added, "We can help advise you on how to plan a funeral efficiently, economically, and with as little stress as possible. Please take your time and talk over choices and options and honor your loved one by giving them the ability to have exactly what they want. That can be the best way to honor them since that's the last opportunity you may have."
In addition, MillionaireCasket.com offers a comprehensive range of affordable caskets with free shipping service. Casket accessories, like embalming tables, stretchers, and embalming tables, are also available there. For those who want to buy a casket online, they just need to check the different sizes and styles online, click the mouse and pay, then they will receive their order in a short time.
About MillionaireCasket.com
MillionaireCasket.com is a leading casket manufacturer. This company offers a wide range of caskets. The standard quality control policy is strictly applied here, and a third party quality assurance is also available.