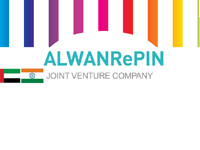 Dubai, UAE (PRWEB) January 10, 2013
ALWAN REPIN LLC is currently looking forward to expanding their business in the African and the Middle East Markets. Offering their clients a high level of cooperation, personalized service, rapid response delivery and the highest quality with the lowest money guarantee, is making them become one of the strongest companies in the Plastics Industry and a giant among the giants, willing to compete at any level worldwide.
Currently participating in the ArabPlast 2013 Exhibition in Dubai, they are offering their range of Colour Masterbatches that consists of a wide selection of custom made and innovative colours, along with the standard colours available in the market. With an active colour database of over 5000 shades and precise colour matching, they are an industry leader providing expert colour technology.
In the huge range of regular Colour Masterbatches that ALWAN REPIN LLC offers, they are specialized in pearl colours, glow in the dark, metallic colours, speckded effect, interference range (two tone colours), lead and heavy metal free masterbatches (ROHS), non fading - light fast 8 colours, database of panton and RAL shades for both film and mouldin, food contact approved PET colours for water and pharma bottles, to mention few.
With their Colour Masterbatches, ALWAN REPIN LLC is having a great opportunity to showcase their vast range of products in the Arabplast 2013 Expo taking place this week in Dubai, demonstrating their impeccable capacities and best qualified products in the Plastics Industry.