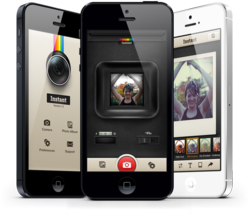 The Most Realistic Polaroid Simulator Yet.
Waltham, Massachusetts (PRWEB) January 10, 2013
ThinkTime Creations LLC announces today that the popular Mac and iPad app, Polaroid Instant, is now available on the iPhone/iPod touch device. With the all-new Polaroid Instant 1.0 app for iPhone, users can snap a photo using the iPhone camera, or select an existing image from the photo library, and apply special effects such as adding an authentic Polaroid filter and then framing it within a Polaroid Classic Border with the option to write a caption. Users are then able to store the newly created Polaroid instant photo or share it on favorite social media websites.
Designed and developed by ThinkTime Creations LLC, an authorized Polaroid licensee, the Polaroid Instant 1.0 app for iPhone mimics the workflow of a classic Polaroid instant camera, with realistic effects - both visual and sound. When a user selects or shoots a photo, an "undeveloped" dark Polaroid film appears to slide out from the camera slot on screen. Slowly the film is developed and the final picture is unveiled for the user to then customize.
The app features 30 unique photo filters, including 10 classic Polaroid filters. Each filter is adjustable in strength, vignette and emulsion artifacts, adding an even more realistic look to users' Polaroid photos. Users may also customize their Polaroid Classic Border, selecting various colors and border effects, writing text on it with 10 handwriting style fonts. Text can be freely resized, rotated and moved around using multi-touch gestures.
Images created with the Polaroid Instant 1.0 app for iPhone can be saved to the iPhone photo library or easily shared with friends and family via Email, Facebook, Twitter, Flickr, Tumblr and Instagram (requires Instagram app pre-installed).
Feature Highlights:

Creative and fun user interface produces realistic experience of Polaroid instant photography
30 unique photo effects, including 10 classic Polaroid filters
10 handwriting fonts for adding captions
Customizable Polaroid border effects
Share via Email, Facebook, Twitter, Flickr, Tumblr and Instagram
Device Requirements:

iPhone 4 or later
iOS 5.1 or later
20MB
The Polaroid Instant app for iPhone is available for a limited-time launch price of $0.99 (USD) and available worldwide exclusively through the App Store in the Photo & Video category.
About The Polaroid Brand
Across several generations, people regard Polaroid as one of the most trusted, well-respected and recognizable brands when it comes to technology. The history of Polaroid began 75 years ago, with its roots stemming back to Polaroid instant film, cameras and camera accessories – thus was the introduction of the famous Polaroid Classic Border Logo, which is still recognized today as a true landmark of photography.
In recent years, Polaroid has expanded its range of products in consumer electronics and photography, such as instant and digital cameras, high-definition camcorders, mobile printers, tablets, flat-screen TVs and more. People can expect to see new Polaroid products that will deliver the fun, instant gratification and value that the brand has long stood. For more information, visit http://www.polaroid.com.
Polaroid, Polaroid & Pixel, Polaroid Color Spectrum and Polaroid Classic Border Logo are trademarks of PLR IP Holdings, LLC
About ThinkTime Creations LLC
Based in Waltham, MA, ThinkTime Creations LLC has been building apps with creative designs and excellent functionalities for Mac since 2011. Having developed renowned Mac apps such as Instant, MemoryFreer and more, ThinkTime Creations is now making its iPhone platform debut with Instant app for iPhone. For more information, please visit http://www.thinktimecreations.com.