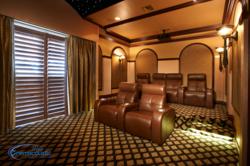 Margate, FL (PRWEB) January 14, 2013
Universal Remote is at the forefront of indoor home security and automation control. The URC brand of Universal Remote Controls have the ability to control multiple products with one remote control. The folks at Cinema Sound Unlimited will be offering for sale such URC products as: Remote Controls, Base Stations, IP Base Stations, Lighting, IP Cameras, Network Amplifiers and Commercial Products. Anybody looking for the ultimate in indoor security technology, will be able to take advantage of a discreet IP Camera delivering crystal clear video monitoring by URC, the company reports.
Cinema Sound Unlimited's representative explained to this Reporter, that the use of a URC Base Station and a URC Remote Control, will allow a homeowner to be in control over any component from anywhere in their home. He went on to explain: "At Cinema Sound Unlimited (CSU), we know that every customer has a different vision in mind when it comes to their entertainment needs. And that's why we approach every job with an open mind and a personalized touch. Our goal is to help people realize the home entertainment system of their dreams, not to sell them on our own ideas. But with our experience in the audio/video industry and our knowledge of all the latest technologies, we can guarantee that they will be more than pleased with the outcome."
He concluded: "Our professionalism, dedication and commitment shines through in each custom solution that we create. Our technicians specialize in home theater systems, lighting and security control, whole-house music and complete home automation".
Cinema Sound Unlimited is inviting everybody to stop by their Showroom and Retail Center for a hands-on experience of the latest available technologies. The company reports that they have individual media rooms which demonstrate the optimal home theatre installation. There is an Integrated Speaker Wall which affords the opportunity to compare different speaker set-ups real-time.
Locally owned and operated since 1988, Cinema Sound Unlimited is recognized as a premier provider of home entertainment, theater and automation in South Florida and is a trusted brand among builders, architects, decorators and commercial contractors.
Complete information is available on the website: Cinema Sound Unlimited