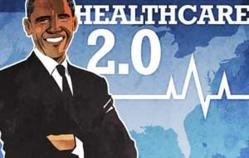 Washington, DC (PRWEB) January 10, 2013
It's happening! It's 2013 and Obamacare is already starting to take effect. Health facilities and government offices are getting ready for the larger changes coming down the road, and health insurance rates are starting to drop.
The federal government is already sending more money to state Medicaid programs that offer preventative services for free or at little cost. And, the Obama administration said earlier this week that it has cleared more states to develop their own insurance markets, including such Republican-leaning places as Idaho, Nevada and Utah.
To date, 20 states including Washington, DC have been conditionally approved to partially or fully run their marketplaces -- with the remaining states having until February 15, 2013 to apply for a State Partnership Exchange.
"States across the country are working to implement the health care law and build a marketplace that works for their residents," said Health and Human Services (HHS) Secretary Kathleen Sebelius. "In 10 months, consumers in all 50 states will have access to a new marketplace where they will be able to easily purchase affordable, high quality health insurance plans, and today's guidance will provide the information states need to guide their continued work."
Medicaid services that are now free or have been reduced in price include tests for high blood pressure, diabetes, and high cholesterol; many cancer screenings including colonoscopies and mammograms; counseling to help people lose weight, quit smoking or reduce alcohol use; routine vaccinations; flu and pneumonia shots; and others.
For more information on how to apply for these low-cost and affordable health insurance plans, visit http://www.AffordableHealthInsurance.org