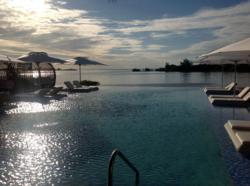 Graniel has built over 100 custom homes
(PRWEB) January 17, 2013
Scott Mallick of MayanIslands.com is proud to announce that builder Armando Graniel will be completing new Ocean Estates in 2013 as part of Mallick's private island resort project in Belize. Graniel owns a construction company located in San Pedro, Ambergris Caye, Belize.
Graniel has built over 100 custom homes and completed many large additions, as well as smaller jobs like kitchen and bathroom remodeling, custom decks and gazebos. With his 25 years of hands-on construction experience, he has the background, professional knowledge and experience to handle building projects like this one. He can, and has, built everything from an entire resort to a single lounge chair.
"When we build a home, we can handle the entire project from foundation to roof, including most of the furnishings. We will complete your home with moldings and doors, cabinets for both kitchen and bath, tiled counters, tiled showers and tubs, and tiled or hardwood floors," Graniel said. "Our own cabinet shop builds beds, tables, chairs, desks, entertainment centers, and lamps."
The recently completed resort Star Island project (a private island with five villas with mahogany vaulted ceilings) and the VIP Beach Resort with Restaurant and Bar with an infinity pool and cabanas (an amenity for resort guests) are a couple of examples of his work completed in 2012.
The upcoming 110' long Ocean Estates have several points of quality in cement work alone:
1) Cement posts with rebar (5000psi) (all rebar is treated before casting)
2) The posts go down to bedrock any where from 7-20ft deep
3) Beams are cast to connect all the posts both length and width.
4) Each Ocean Estate has a 12,000 gallon cistern which will be under the back porch.
5) Block construction and rebar filling every cell with cement.
For a glimpse of his work see: http://www.youtube.com/watch?v=qrFw6Ni4d4Q