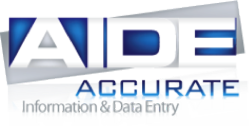 "Many retailers start a contest but aren't sure what information to include on a contest sign-up form or the most effective way to gather the information," states Mark Petersen, AIDE Data President.
Dallas, TX (PRWEB) January 16, 2013
AIDE Data has experience with dozens of personalized consumer databases for clients and is now sharing their expertise to help other businesses. Now is the time to create a contest to boost sales leads and AIDE Data is sharing the secrets to a successful signup form contest. The momentum created from holiday sales can be continued by starting a contest with signup forms. Using these top 5 tips, businesses can get a head start on how to create a useful signup form for a contest that will result in more complete and accurate customer information.
"Many retailers start a contest but aren't sure what information to include on a contest signup form or the most effective way to gather the information," states Mark Petersen, President at AIDE Data. "In the data entry business, we have seen millions of signup forms succeed with particular layouts and types of information on their forms. Since this makes such a big difference in the results, we've decided to share a concise list of tips to help other businesses get the most out of their signup forms."
Secret #1: Logical Layout of Fields
Make the forms logical and easy fill out, this seemingly obvious advice is often missed. The standard order that customers are accustomed to seeing when filling things out are: First Name, Last Name, Email, City, State, Zip Code. If these fields are in a different order, the response is more likely to result in blank or incomplete information. For example, an email club signup form should be sure to include a field for an email address.
Secret #2: Multiple Street Address Fields
If a street address is required, it is best to have more than one field for the customer to write their street addresses. When an address field is listed as "home address," many of the responses returned typically have incomplete addresses and do not help identify the customer's location. Provide a specific field for street name, number, apt, city, state and zip code. Include all these fields on the form and about 90% of all entries will have a good physical address.
Secret #3: Clear Email Address Boxes With the "@" Sign
The style of an email address box and the inclusion of an "@" sign will deliver the best results. Forms with clear field areas (no boxes to print inside or other text guides) and a pre-printed "@" sign about two-thirds of the way across provide the best email addresses, ie: ( @ ). This design makes it easy for the customer to fill out and easier for the data entry technician to determine where the local part of the email ends and the domain begins.
Secret #4: Clear Phone Number Fields
A phone number field can be a clear space and there is no need to add parentheses "( )" for an area code. It is not necessary to ask for both home and cell phone numbers because respondents will usually only give a single number. The majority of the time they will provide their personal cell phone number. To gain permission to send texts to the customer, be sure to include a check box on the form for SMS messages. Currently, an average of about 10% of customers will check a SMS box to give permission to receive text messages.
Secret #5: Use Birthdays Without a Birth Year
Birthdays are very useful and they can give an excellent opportunity to offer prizes to customers or serve as another connecting opportunity. Respondents are much less likely to fill-out the birthday field if they are asked for their birth year. If the signup form asks for it, the overall birthday response rate significantly declines to up to 50% lower than forms without the birth year. If the year is needed to determine if the customer is an adult, we recommend using a checkbox instead (i.e., Are you 18 or older?).
As a general tip, it is easy to get more accurate information from the signup forms if the entry allows a respondent to attach their business card. A best practice for higher accuracy of form data is to suggest to the respondent that they attach a business card to the form. If a collection container is being utilized, it can indicate that business cards are accepted as well as the formal form.
These contest form secrets can be used any time of the year but are especially important to utilize to keep momentum going. Take advantage of these simple tips and more information available about eClub contests and signup forms on the AIDE Data website.
_____________________________________________________________________________
About AIDE Data
Since 2005, AIDE has provided data entry, data management, database and online retail solutions to clients across USA and Canada.