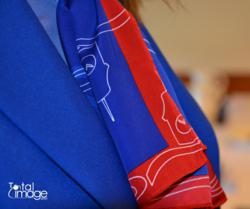 As a uniform designer, I believe the small details in the collection not only complete this unique look but ensures the range is tied together
Sydney, NSW (PRWEB) January 16, 2013
The new uniform range was unveiled during the cricket Test between Australia and Sri Lanka in January 2013.
Inspired by the clock tower logo, the Trust's uniform supplier, Total Image Group, designed and manufactured this unique uniform collection.
Based on Total Image's uniform design experience and with the Trust's consultation, the uniform cleverly integrates the Trust's colours and branding and provides a fresh and upbeat take on the Trust's image.
"We are very excited to be working with the Trust as their exclusive uniform supplier. To be supplying uniforms to such an iconic Australian sports venue is a welcomed opportunity for us, and we are looking forward to the long term partnership with the Trust," says Pamela Jabbour, Total Image's General Manager.
Each division has different uniform needs; the crowd control uniform is motivated by comfort, safety, durability and vibrant colours to ensure they are easily identifiable in a crowd. The customer service and events uniform is defined by its subtle colours, shaped fit and smart casual appearance.
"As a uniform designer, I believe the small details in the collection, like the logo print which is on tabs of the shirts and continued inside the lining of the blazer, not only complete this unique look but ensures the range is tied together" says Marcelle Khoury, Total Image's Marketing Manager.
Thanks to Total Image's expertise in apparel manufacturing, they were able to create a custom fabric for the Trust for the polo's, shirts and blazers.
"Our extensive experience with custom fabrics for uniforms is the reason we opted for a combination of cotton and polyester for the polos and the shirts; as it is an advanced fabric mixture that ensures optimal performance and comfort," says Pamela Jabbour, Total Image's General Manager.
"When putting together the Trust's new uniform range, we briefed Total Image on what we wanted with regards to style, colour and image. Total Image was able to provide a wide custom uniform range that matched and surpassed our expectations and they also delivered a range of bonus services to assist in the launching of our new uniform range," says Jacqueline Cunningham, the Trust's Human Resources Manager.
Total Image are innovators in the uniform business and are always looking to improve on existing successes, as well as finding new technologies.
To view Total Image's wide ranging uniform products visit:
http://www.totalimagegroup.com.au/uniforms/products
Or to enquire about custom design and manufacturing contact Total Image on (02)9569 6233 or email: uniforms(at)totalimagegroup(dot)com(dot)au
About Total Image Group:
Total Image Group is a uniform, work wear & promotional product specialist.
We are dedicated to designing, sourcing and coordinating product and branding solutions for your company.
We understand the importance of successfully communicating and managing your brand image and we will work with you to either enhance or create your image. http://www.totalimagegroup.com.au/