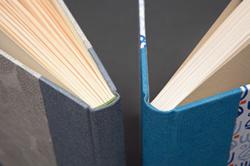 The San Francisco Center for the Book instructor was very helpful & excellent at answering questions
San Francisco, California (PRWEB) January 09, 2013
The San Francisco Center for the Book' s bookbinding courses range from the enduring structures of both Western and Eastern traditions to contemporary approaches, with a wealth of bookmaking techniques in between, including pamphlets, pop-ups, exposed sewing stitches, protective boxes, photo albums and more.
This January and February, learn bookbinding's basic vocabulary, its fundamental tools and their uses, as well as the materials (paper, cloth, board, and adhesives) and techniques (folding, sewing, and gluing) of the craft. In the "Beginning Bookbinding" workshop, students will construct four hardcover, hand-bound, multi-section books over the course of the series.
Each binding in the series will add to the skills previously learned and integrate new techniques. Modifications for working at home without complex equipment will also be covered.
The instructor, Rhiannon Alpers, will provide resources for buying your own supplies locally and on the Web, as well as training on how to use bindery equipment such as the guillotine, Kutrimmer paper cutter, and board shear.
Beginning Bookbinding: Core Curriculum takes place as a series of four Sundays and is part of the SFCB Bookbinding Certificate Program. To receive the Bookbinding Certificate, students must complete this workshop plus Intermediate Bookbinding.
Register for this bookbinding workshop at http://sfcb.org/civicrm/event/info?reset=1&id=918
Advantages of completing the SFCB Bookbinding Certificate Program:

Access to the highest caliber bookbinding facilities and instructors on the West Coast;
Collaboration and interaction with other eager bookbinding students;
Knowledge of the essentials of traditional bookbinding;
A beautiful letterpress-printed completion certificate;
Discounts on class registration and studio rental for certificate holders and students enrolled in the certificate program;
Five hours of free studio rental;
Continued access to our studio bindery through our Studio Rental program;
Opportunity to participate in exhibitions in the Austin/Burch Gallery;
The satisfaction of knowing how to make a darn good book!"
About the San Francisco Center for the Book
The San Francisco Center for the Book fosters the joys of books and bookmaking, the history, artistry, and continuing presence of books in our culture and enduring importance as a medium of self-expression. We provide both a home for Bay Area book artists and a place where the wider community can discover book arts. Everyone is welcome here, experienced practitioners and newcomers alike. Over 300 workshops annually offer learning at all levels: from introductory to focused advanced courses spanning traditional bookbinding, cutting-edge printing techniques and experimental book forms. Exhibitions are designed to inform and inspire visitors. Free public programs include opening receptions for the exhibition program, poetry readings, book release parties for our publications, gallery talks, Open Houses and other community events like the annual Earth Day Extravaganza and Roadworks Street Fair.