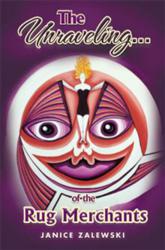 Ohio (PRWEB) January 11, 2013
Author Janice Zalewski marks her debut in the world of literature with her novel, "The Unraveling . . . of the Rug Merchants." Zalewski recreates the universal dilemma of doing what feels good versus doing what is right in the captivating landscape of paradoxical cultures, profound spiritual pursuits and forbidden intriguing love.
Forty-four-year-old Christen Janiszeski is the owner of the Galleria Persian Arts in New Orleans' iconic French Quarter. Her life takes a sudden and unexpected turn when the mysterious Jamshid Khafezi applies for the manager's position in her gallery. Her intuition and strict Catholic upbringing tells her that this exiled Sufi mystic and Moslem rug merchant might be trouble, yet her sensual nature wants to hire him on the spot. As the lives of these two bohemian personalities interrelate, readers will find themselves embarking on an astounding journey that will encourage them to examine love, ethnicity and integrity in the light of life's greatest questions.
A collision of remarkable characters and worlds, "The Unraveling . . . of the Rug Merchants," is at once an extraordinary story of two people who are about to discover who they really are and an unforgettable look into the impact of poor Ohio Valley coal mining country and the stunning culture of Islam.
For more information on this book, interested parties may log on to http://www.Xlibris.com.
About the Author
Janice Zalewski owned and operated several Persian carpet businesses and conducted exhibitions, lectures and seminars throughout the US. Zalewski is a rug scholar and an authority who has learned the idiosyncrasies of conducting business in many countries and cultures. She presented her Walking on Heirs seminars at Artworks Around Town, The Oglebay's Mansion Museum and N.C. State University, etc.. She is also featured in the PBS Series, Art Underfoot. . . in the segment entitled -- Wholesalers: Integrity and Savvy, The Art of Doing Business.