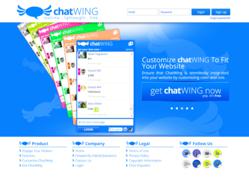 New York, NY (PRWEB) January 09, 2013
The premise of travel has now improved, based on the way people are getting information on tours, cultures, and even itineraries. This gave way to the mass creation of websites and blogs that carry relevant data about how people experience travelling. Chatwing.com, an online company known for making widgets, stepped up in the ever-growing niche of travel. The developers of the company offered a premier chat box that can be used by website owners to generate high streams of traffic.
The developers of the chatbox have realized that they need to improve their strategy in reaching out to online communities. The strategic overhaul includes random surveys given out to bloggers and web users, information exchange with new website owners, improvement of social media relations, and overall platform change. One of the main changes of the shoutbox is customization. Now, web users can create hundreds of color combinations and admin functions are also included.
Chatwing chat software can be installed by travel website owners to interact with their visitors and subscribers properly. With the Chatwing chatroom, the visitors can ask information without wasting too much time. The chatroom admin can now answer their inquiries within seconds or probably minutes. Chatwing's developers have noticed that these inquiries are commonly related to travel experience, location culture, and the overall budget needed. Flight suggestions are also common and they were always offered by other people who travelled to the inquired place.
The travel niche is becoming larger with every day or week. To help more travellers gain much needed information, Chatwing.com will continue introducing the chat widget in a rampant basis. In the following months, the developers attest that there will be more upcoming features and improvements for the chat platform.
About Chatwing.com
Chatwing.com specializes in the new field of website chat. Over years, the development team has introduced live chat widget for hundreds and thousands of blogs. The application bridges people from many parts of the world, creating global synergy through the Internet. The shout box can be installed in just seconds, and it can be used for varying purposes such as leisure and Internet marketing. It also allows a user to customize the size, color, and name of the widget.