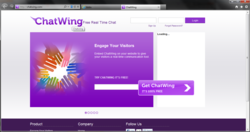 Cambridge, MA (PRWEB) January 09, 2013
Venture capitalism, one of the strong fields of finance in general, is having a monumental comeback this year. All around the world, investors are now ready to help entrepreneurs who have unique business ideas. For venture capitalists, the recent advancement of Chatwing.com proves to be helpful. With the newest chat software launched by the company, venture capitalist websites will have a formal online inquiry tool that will handle the concerns of visitors.
The recent chat box offered by Chatwing focuses on enhanced global connectivity, easy registration, and improved user access. This grants advantage to website owners who are looking for ways on how to build traffic for their websites. Based on the studies of many professionals, a website owner may have multiple ways of building traffic. Chatwing provides a clear-cut solution in the form of an installable chatroom tool. The chatroom, open to user modifications, can have different colors, sizes, and forms. Moreover, a registered Chatwing user can add unlimited chat boxes in his dashboard.
Venture capitalists, especially those who own websites, can rely on the chatbox when it comes to information. Now, scouting for creative entrepreneurs will become a notch easier, compared to an effort without the help of a versatile chatroom tool. Additionally, the chat app can also accommodate thousands of visitors—this has been overhauled from 600 users when the developers saw the huge online market demand. The company developers have also predicted that young entrepreneurs will go for venture capitalists rather than government institutions because they are more lightweight in terms of conditions. With this assumption, the importance of the Chatwing shoutbox in venture capitalist communities will become more imminent.
The Chatwing chat widget will continue to reach more aspects of the world of finance this 2013. The developers of the company are also working on a new feature that can improve the way visitors are experiencing online chat. To give out more information, Chatwing.com and its developers are maintaining a Facebook page and a series of informative blogs.
About Chatwing.com
Chatwing.com specializes in the new field of website chat. Over years, the development team has introduced live chat widget for hundreds and thousands of blogs. The application bridges people from many parts of the world, creating global synergy through the Internet. The shout box can be installed in just seconds, and it can be used for varying purposes such as leisure and Internet marketing. It also allows a user to customize the size, color, and name of the widget.