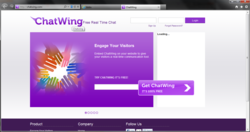 San Francisco, CA (PRWEB) January 10, 2013
The premise of audio blogging is becoming in various online sectors, based on the collective research done by Internet professionals. Operating on this fact, Chatwing.com and its team of creative developers stepped up in the audio blogging community. The strategic move was planned three months ago, and it is expected to generate positive overall effects to end users. The improved version of Chatwing's chat widget also focuses on the aspect of application control granted to website owners and audio bloggers.
According to the company's developers, audio bloggers can use the chat box to generate a stable rate of visibility within a day to day basis. "It works like a simple leverage tool. Upon installing, the website owner can observe the way visitors connect with each other. Time to time, the website owner can share important audio links in the chatroom. The chatroom can also serve as an online lounge wherein visitors can create discussions," Says Mike Diamond, one of Chatwing's developers and researchers.
Unlike many chat apps, the Chatwing tool presents many possible color combinations, thus granting customization leverage for all registered users. Famous colors noted by the dev team are red, blue, green, black, pink, and orange. The chat platform also runs efficiently because of the frequent maintenance schedules implemented by the company.
Chatwing.com will continue to introduce more important upgrades to the chat room. In this way, the chatroom will always be reliable and more web users can gain upper communication advantage. The company's Facebook page will also be updated to ensure that users are always well-informed.
About Chatwing.com
Chatwing.com specializes in the new field of website chat. Over years, the development team has introduced live chat widget for hundreds and thousands of blogs. The application bridges people from many parts of the world, creating global synergy through the Internet. The shout box can be installed in just seconds, and it can be used for varying purposes such as leisure and Internet marketing. It also allows a user to customize the size, color, and name of the widget.