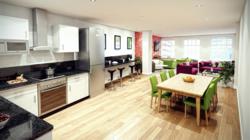 Knight Knox International launched 11 new student accommodation projects in 2012
(PRWEB UK) 11 January 2013
Following on from the phenomenal success of Bard House, a 56-unit development in Nottingham which sold out within three months of being launched, Knight Knox International has once again been appointed the master sales and marketing agent for Fortis Developments, the developer behind this exciting new project.
"Working with experienced developers allows us to deliver high-quality projects in cities with large student populations, allowing our investors to be confident that there is a strong rental market for their unit(s)" comments reports Martin Copeland, Sales Director at Knight Knox International.
Copeland further comments, "Last year was a tremendous achievement for the company in regards to student accommodation projects, seeing us launch 11 new developments in the UK, four of which are now tenanted and generating income for our investors. The majority of the student properties we have on our books are between 70%-90% sold out, leading to the launch of new residences like Minerva House, which we are confident will prove equally as popular".
Home to over 55,000 students, Nottingham is one of the most popular university destinations in the UK. Aware of the city's status, Nottingham City Council has recognised the need for purpose-built student residences as part of the solution to its shortage of affordable family housing, and is actively encouraging the construction of properties like Minerva House, in accordance with The Housing Nottingham Plan 2012-2015.
Minerva House
Built over five floors, the residence is comprised of 151 individual studios which have been packaged into three different investment options (standard, premium and deluxe), in order to cater for all levels of student budget.
Students living at Minerva House will be part of a unique community, with access to range of bespoke communal facilities and amenities, including a fully-equipped gymnasium, entertainment lounge, laundry, secure bicycle storage and free broadband throughout the residence.
Within walking distance of Nottingham Trent University and only a short bus ride away from the University of Nottingham, students are perfectly placed in the heart of a thriving community, close to all the facilities and amenities they could need, including shops, restaurants and bars.
Priced from £48,250 for a standard studio unit, investors are assured of receiving 9.2% NET rental returns for the first three years and, due to the chronic shortage of accommodation in Nottingham, can be confident that there will be a strong annual rental demand for their unit.
Knight Knox International
Market leaders at selling investment and lifestyle property in both the UK and overseas, Knight Knox International are specialists at selling boutique student accommodation to the private investor market.
With over 10 completed, high-yielding developments in numerous major university cities including Liverpool, Sheffield, Leeds and Bolton, several of which are now generating impressive yields as the students start to move in, investors can be confident that only residences of the highest quality are brought to market.
To enquire about Minerva House, or for further information on the full range of student accommodation projects available through Knight Knox International, including Alexandra House in Sheffield, St. Andrew's Court in Glasgow and X1 Arndale House in Liverpool call +44 (0)161 772 1370.