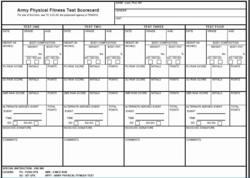 The DA 705 Form is the first Army form to be launched by laws.com in the year 2013
New York, NY (PRWEB) January 09, 2013
Today Laws.com launched DA 705 Form in its legal forms section of the site. The DA 705 Form is the first Army form to be launched by laws.com in the year 2013. The site is reported to be working on other legal forms for launching in January. The Army Physical Fitness Test Scorecard Form is available in printable PDF format for immediate download.
The DA 705 Form used by US army for measuring the soldier fitness and whether the solider passes the Army's physical fitness requirements. The DA 705 form that is often searched by army personnel is in constant demand throughout the year. The form can be downloaded from laws.com at free of cost, visit DA 705 Form to download the form in a print friendly format.
The DA form 705 download page comes with an instruction video guide on how to fill the DA 705 form. The video guide is part of laws.com initiative to develop video guide for helping users to fill the legal forms without any professional help and to guide user to fill the form rightly. The Physical Fitness Test Scorecard Form video guide explain the DA 705 form filling process by showing the filling of the form fields using the sample data. DA form 705 video guide is very handy as the user will learn how to fill various fields. The step by step video instruction for the DA 705 form is available in form download page.
For viewing the video guide in YouTube visit laws.com video channel:
http://www.youtube.com/watch?v=ssJxbgjUlwk
Laws.com is the fastest growing online law site that help user with various useful tools and provide value added legal sources like legal forms, video guide at free of cost to users. The site is an online gateway for downloading free forms and agreements in a printable format. The site boosts legal resources on a continuous basis, to position itself as a one stop online legal resource portal. To know more about laws.com and to download various legal forms visit http://legal-forms.laws.com/