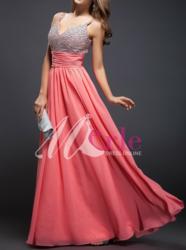 (PRWEB) January 10, 2013
Today, MerleDress updates its fashion blog, and educate girls how to prepare for a prom. In addition, MerleDress introduced its 2 new styles of prom dresses, which are especially designed for high school girls.
A prom night can be regarded as one of the most amazing and memorable nights of life in the United States. However, some high schools published the dress standards before a prom, showing the largest back-skin bareness they can accept. This is why MerleDress introduces its two new prom dresses.
One is its coral prom dress with upper body, which is decorated with small beads. This dress is long enough and accepted by the majority of high schools. This hot-sale dress, with free shipping, is priced at $169 at MerleDress.com.
Another one is its new one-shoulder prom dress. For its back and side full-cover design, this dress is accepted & recommended by most high schools. The present price of this dress at MerleDress.com is $169 with free shipping.
In addition, MerleDress has announced its Prom Dresses 2013 collection, which are sorted by 12 colors: yellow, blue, purple, etc. All these cheap prom dresses feature several characteristics: rich fabrics, fine tailoring, and meticulous production.
For more fashion tips about high school prom dresses, please visit: http://www.merledress.com/blog/how-to-dress-on-a-prom-ball.html