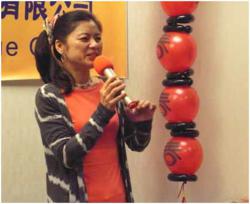 Men are not always right, of course. But there are ways to help them besides criticizing them.
Los Angeles, CA (PRWEB) January 11, 2013
Valentine's Day is traditionally known to be a time to celebrate love between couples. Flowers, gifts, cards, romantic dinners, love confessions etc are given. However, it is also a day which can make those who have had disappointments in relationships dreading it's arrival.
Relationship expert and bestselling author Hellen Chen has encountered many stories of good and bad in relationships. As a matchmaker, and as someone who just wish to see people doing better in their relationships, Chen traveled around the world giving workshops and seminars to teach men and women - singles and married couples - how to enjoy freedom in relationships.
Among those who seek help from Chen is Janet T, a mother of two. She was married for several years and after feeling that she and her spouse had drifted apart and were no longer suitable for each other, she divorced. Shortly afterwards she married again. Her second marriage turned out to be yet another unpleasant experience of fights and arguments and she asked for divorce, again.
"She did not know her own mistakes." said Chen, an authority in the relationship field who has written 20 books and is a bestselling relationship author. Her recent book "the Matchmaker of the Century" became a number one bestseller in marriage and romance books at Barnes and Noble.
Chen, who counseled Janet about her relationship failures, commented, "She asked for the other half to change to satisfy her. But she did not realize what she is doing that is hurting the relationship."
When asked in a recent news interview in Los Angeles about the mistakes which women commonly made, Chen said, "Women who is constantly nagging at their partner's mistakes, lecturing to them about what is wrong and why they are wrong, will have a higher chance of separation and divorce."
Chen advised that if a women wants a romantic Valentine's Day or for that much, if she wants to enjoy romance every day, stop harping on the shortcomings of their partners.
"Men are not always right, of course. But there are ways to help them besides criticizing them." Chen continued.
She also shared the top mistakes which men have committed in relationships. She spoke about the importance of men being faithful to their partner. She also advised men to practice 'sweet talking' - and never cut short on telling their spouses or girlfriends how much they love them, how wonderful they are etc. These would earn men high approval marks among ladies, more so than the gifts or material comfort.
Chen, being married for over 20 years herself, has traveled the world and given thousands of seminars on how to achieve marital bliss. She has developed an unwitting reputation for solving the toughest relationship problems and reversing the 'unchanging' patterns of dying relationships.
As an unorthodox matchmaker, she is known for helping the hardest cases to find their perfect matches: computer geeks who would never have chances to be noticed, 40-year-old virgins who had sworn to never enter into relationships, hard-to-please career men and women who have sky-high expectations and yet usually no success and divorcees who had been burnt a tad too deep.
Chen just helped her 51st couple to walk on the red carpet.
"Having a good relationship is not difficult. " Chen said in her most recent marriage seminar that she conducted for singles and married couples.
" You just have to know and understand the 'rules' of a happy marriage. On Valentine's day, it is great to shower your better half with nice words and gifts. But if you continue to be oblivious about the rules of a relationship and constantly break them, you are simply asking for a disastrous ending." Chen said.
More of Hellen Chen's marriage philosophy can be found on the website http://MatchmakerOfTheCentury.com