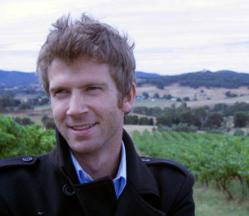 His voice fits the down south mood: languid and unforced with an air of simple honesty.
~ CanberraJazz.net
(PRWEB) January 09, 2013
Killer B Group LLC is proud to announce the US debut of "Australia's Got Talent" finalist Owen Campbell, Monday February 4, 2013 at 7pm at the Hotel Café, 1623 North Cahuenga Boulevard in Hollywood, CA.
Owen Campbell has been playing guitar since he was 9 years old and is regarded as "one of the world's most talented slide guitar players" (Argus News, Ireland). The singer/songwriter's unique voice is a hard-worn, gravelly blend of blues, roots, soul and country, which sight unseen belies his youthful age and good looks. Campbell's meteoric rise to fame came on the heels of his controversial appearances in the sixth season (2012) of the hit television series "Australia's Got Talent". Noted for his raw attitude and unflinching ability to 'sing it sweet and play it dirty', he shot to the top of iTunes Blues Charts as he became a finalist on the show.
Campbell's street honed authenticity gives hints to influences stemming from The Band, Van Morrison, Townes Van Zandt, and even a little Johnny Cash. As CanberraJazz.net says, "His voice fits the down south mood: languid and unforced with an air of simple honesty."
While his sophomore album "Sunshine Road" has been in the Australian iTunes Blues Charts for the last ten months, peaking at #1 in both April and again in December 2012, and charting in the top 5 in five countries across the world, Owen Campbell has been touring non-stop. From the highest blues festival in the world, The Himalayan Blues Festival in Katmandu in Nepal across to Ireland, the UK, and Europe, through to his home continent of Australia, he has been impressing audiences worldwide.
See the chart topping hit "Sunshine Road" from Owen Campbell's independently released album of the same name, http://www.youtube.com/watch?v=yJTg7Begdp4.
For more: http://www.OwenCampbell.com.au
For media requests and inquiries, contact:
USA: Popular Press Media Group (PPMG)
Jessica Kill
Jessica(at)PPMG(dot)info
(310) 860-7774
Australia: Jameson PR
Erin Jameson
Erin(at)JamesonPR(dot)com
+ 61 3 9804 7130
About Killer B Group
Killer B Group is a management company that thinks "outside the box" and uses not only well established avenues to promote and further the careers of its client's, but also uses cutting edge ideas to maximize the artist's worldwide visibility and profitability. Made up of a team of music industry professionals with a combined 70+ years of experience and vast resources of worldwide contacts in all areas of entertainment, Killer B Group capitalizes and further expands our client's global reach like never before.
With offices in Los Angeles, London, Orlando, Singapore and Sydney, the Killer B team is one step ahead of the game and fully committed to the long-term success of all its artists while ensuring global brand relevance and integrity all the while maintaining the personalized family-style relationships.
For more information visit http://www.KillerBGroup.com