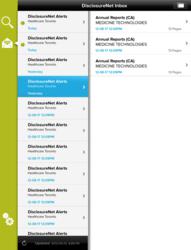 [M]obile app development should be about blending the experience seamlessly into the user's daily routine.
Toronto, New York, and San Francisco (PRWEB) January 10, 2013
In 2013, as part of a resolution to provide a more flexible and convenient user experience, software company DisclosureNet™ has launched a new mobile iPad application. Available now from the iTunes App store, users with a DisclosureNet account can download DisclosureNet Mobile onto their iPad at no cost. The app is the company's first mobile computing offering and was developed in response to client requests for a mobile version of the cloud-based public disclosure research software.
As both personal and enterprise iPad use increases, DisclosureNet seized the opportunity to fulfill a growing client need and began developing the app six months ago. The product, engineering and design teams worked together to produce DisclosureNet Mobile, which possesses these key features:

Inbox and search capabilities
Alerts on the go, giving mobile users a competitive edge
Hit-highlighting to help users find what they need quickly
Commonly-used search filters from the desktop version
Access to 20+ million public disclosure documents from the U.S., Canada, Australia and annual reports from the UK
Carla Gould, user experience designer at DisclosureNet, points out that "mobile app development should be about blending the experience seamlessly into the user's daily routine," which means offering an intuitive product that's accessible during their commute, in their kitchen or at their cottage. "We want to establish a personal connection with our users and help them do their jobs better, so we developed an app with powerful research capabilities that they can use comfortably at their convenience."
As with DisclosureNet's other product initiatives, the company drew upon feedback from existing users, which influenced the app's development and helped define its functionality and capabilities. DisclosureNet President and CEO Stephane Jasmin believes that this process is especially important when it comes to the mobile experience.
"It's always important that our customers have a voice in the product's evolution," begins Jasmin, "but with the iPad app we were especially diligent in gathering feedback because DisclosureNet Mobile needs to be something our clients not only want to use, but will also enjoy using while they're on the go." He also notes how grateful the DisclosureNet team is to those customers who donated time to the testing and feedback process.
DisclosureNet Mobile is making public disclosure documents more accessible than they've ever been before, and the company plans to expand the app's scope; in the coming months, DisclosureNet will continue to gather user feedback and integrate new features like offline support. There are also plans to make the app compatible with other mobile devices later this year.
Download DisclosureNet Mobile from the iTunes App store today, and unlock intelligence in disclosure filings wherever your iPad takes you.
™ DisclosureNet is a trademark of DisclosureNet Inc.
Media Contact: Lauren Triance-Haldane | l(dot)triance-haldane(at)disclosurenet(dot)com | 416-916-8798 ext. 167
About DisclosureNet™
DisclosureNet™ is an online solution that helps business professionals unlock intelligence in global corporate disclosure filings. Founded in 2002, DisclosureNet™ uses innovative technology to make it easy to find, store, and share global public disclosure information, while providing a secure platform for knowledge collaboration. To learn more about DisclosureNet™, please visit http://www.DisclosureNet.com.