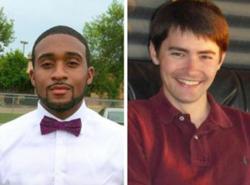 We're developing leaders who will move Louisiana forward, and Jeremy and Jesse represent the best and brightest.
Shreveport, LA (PRWEB) January 09, 2013
Jeremy Babers '09 and Jesse Gilmore '12 have been selected as fellows for the 2013 New Leaders Council (NLC) Louisiana Institute. This selective, statewide program recruits emerging leaders for a rigorous training institute which includes sessions on communications, advocacy, fundraising, and campaign management.
"I look forward to building on my leadership skills that I hope to translate into transformative action," said Babers, a Shreveport native and Fair Park High School graduate. "I'm grateful for the opportunity, and I'm honored to have been selected by NLC."
Babers graduated from Southern University Law Center and works as a staff attorney for the district court in Shreveport. He also completed a fellowship with the Loyola University Institute of Politics.
Since graduation from Centenary, Gilmore, a native of Marston Mills, Massachusetts, has served on staff at the college as an accountant. He and Babers will join 17 other young leaders from across Louisiana for five weekends of intensive training as NLC Fellows.
"We're proud to have Jeremy and Jesse in our fourth annual class," said Genevieve Pope, state co-director of New Leaders Council. "The outstanding young people taking part in the NLC Institute will go on to serve and promote progress in their communities and across our state. We're developing leaders who will move Louisiana forward, and Jeremy and Jesse represent the best and brightest."
New Leaders Council is a nonprofit, nonpartisan organization with 25 chapters in cities and states across the country. The NLC Institute is one of the nation's premier leadership and professional development programs for young professionals and is highly selective, admitting only 15 to 20 fellows to each program. Founded in 2005, NLC boasts over 1,400 national alumni.
For more information on the NLC and biographical information on the 2013 NLC Fellows, visit the New Leaders Council main page.
###
About Centenary College of Louisiana
Founded in 1825, Centenary College of Louisiana is the oldest chartered liberal arts college west of the Mississippi River and is a U.S. News & World Report Tier One National Liberal Arts College. A member of the Associated Colleges of the South, Centenary is a selective, private, residential institution, affiliated with the United Methodist Church.