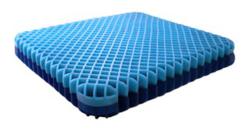 Alpine, UT (PRWEB) January 10, 2013
In late October 2012, WonderGel was excited to announce that they had reached 29,000 genuine Facebook fans in less than one year. Many pages can purchase "fake" likes to boost their numbers but WonderGel would have none of this. All likes were from real people gained through social sharing and advertising.
Toward the end of the press release they announced that once they reached their next milestone of 35,000 genuine Facebook fans, "they will be holding a sweepstakes for several of their unique gel seat cushions to give away to their loyal Facebook followers." The goal was reached and WonderGel launched the "Amazing WonderGel Cushion Sweepstakes" on December 28, 2012.
Seeing as reaching this goal and launching the sweepstakes have coincided with the New Year, WonderGel has decided to tie it in with their New Year's resolution, which is "make the seats of the world comfortable with WonderGel seat cushions". They will start by giving away six of their gel cushions they sell on their website.
The first four prizes will be their four seat cushions: The DoubleGel, The Extreme, The Original, and The Roll n' Go. The last two prizes will be the Multi-Purpose Sof-Pillow and the Travel-Sof Pillow. All of these prizes can be found for regular sale on their website if one wishes to purchase a cushion rather than take chances of winning one. There will even be completely free shipping to US entrants and Canada entrants will only be responsible for any customs charges.
Entries will be accepted through January 24, 2013 and winners will be announced shortly after. Entries may be gained by following WonderGel on Facebook, Tweeting about the giveaway, following WonderGel on Twitter, Joining the WonderGel mailing list, pinning a WonderGel image on Pinterest, and answering the question of where the cushion would be used should the entrant win. Then entrant may choose any or all options. All are weighted differently, gaining the entrant multiple entries to the sweepstakes and encouraging viral sharing of the contest and WonderGel name.
To learn more about WonderGel and their products and prizes, please visit http://wondergel.com/