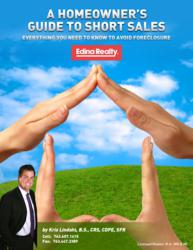 Kris has earned himself the title of Internet Marketing Specialist.
Blaine, MN (PRWEB) January 09, 2013
Edina Realty announced this morning that a First Horizon short sale meeting will be taking place later this week in Blaine, MN. The meeting will be hosted by Kris Lindahl, the number one Edina Realty short sale agent. Lindahl plans to follow the lender's short selling process in an easy-to-understand step-by-step presentation. Lindahl will then field questions from the audience for up to an hour after the presentation. Personalized questions are encouraged as well as general knowledge questions.
Reservations are open now until Friday for seats at the seminar. Walk-ins are welcome as well. Lindahl will be presenting several online resources for the audience to access and use. The First Horizon seminar is one in a long line of scheduled programs focusing on specific lender's short selling processes.
Kris Lindahl believes that to buy or sell a home the best technological tools are absolutely necessary. "I have exclusive access to those tools,"Kris Lindahl said. Kris has earned himself the title of Internet Marketing Specialist.
Call Kris and his team at (763) 607-1415 for more information. Visit the Minnesota Short Sale Calculator website to check eligibility. Download a complimentary copy of "A Homeowner's Guide To Short Sales" and check out the short sale video series on YouTube.