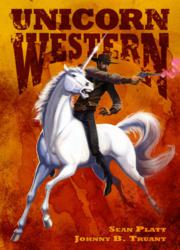 My ONLY criticism is that I wish it were longer, or that the next one were coming out faster!
Cincinnati, OH (PRWEB) January 11, 2013
A new breed of fiction, known as the Unicorn Western, is proving a hit with readers having notched up over 10 reviews on Amazon.com and Amazon.co.uk in the two weeks since it was published.
The first book to be penned together by Sean Platt and Johnny B. Truant, Unicorn Western combines a traditional Western plot with elements of comedy and fantasy, bringing magic and unicorns to the Old West.
"Unicorn Western was an experiment in two ways," Platt said. "First, we wanted to see if we could write a western novel without doing any research. Second, we wanted to show that any idea - however crazy it might sound - can be worked into a successful story.
"The overwhelming positive reviews show both experiments paid off."
All reviews of the title published to Amazon have been positive, with reviewers awarding the book either four or five stars. What's more, many readers have become converts to the Western genre since reading the Unicorn Western novella.
"I never was a big fan of Westerns until I read this," wrote Robert Topp.
Another reviewer added: "I'm not a fan of westerns nor fantasy. Yet [Platt] and Truant deliver a well-developed main character and a plot thick with rich details that transformed me to another place."
British readers have enjoyed the book too.
"The characters are funny but strangely real and serious at the same time," wrote Gareth Witty on Amazon UK.
Unicorn Western is the first in a series of nine Unicorn Western novellas to be co-authoered by Platt and Truant.
"With each installment we plan to give a magical twist to a traditional Western tale," Truant said. "We can also confirm that at least one unicorn will feature in every book."
Readers eagerly await the second book in the series.
"My ONLY criticism is that I wish it were longer, or that the next one were coming out faster!" wrote Garrett Robinson in his Amazon review.
"Breezed right through this book and can't wait for the next one," another review said.
On top of writing thousands of words of fiction every week, Platt and Truant co-host the Self Publishing Podcast together with Platt's usual writing partner, David Wright.
Platt's other self-published titles include Yesterday's Gone and WhiteSpace, both co-authored with David Wright. Johnny B. Truant's fiction includes The Bialy Pimps and the Fat Vampire series.
# # #