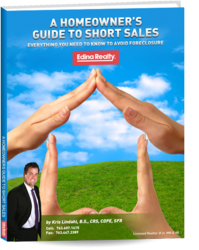 I credit my success to a lot of hard work and a technological expertise that gives me the edge over other agents nationwide
Blaine, MN (PRWEB) January 09, 2013
Later this week there will be a short sale strategies seminar in Brooklyn Center, MN hosted by Kris Lindahl of Edina Realty. Lindahl is Edina Realty's number one short sale agent and recent recipient of the Chairman's Award. The seminar will present several short sale resources that Lindahl has created for the general public's use. The short selling process will be followed using past examples from Lindahl's many years of experience.
Lindahl has created several online resources including three short sale calculators, a published eBook, and an online video series. Kris will go over all of these and show the audience how to access and use them. Reservations are now being taken for spots at the seminar. Walk-ins are welcome.
Kris Lindahl received the Chairman's Award from Edina Realty for record-breaking numbers in sales and sales volume. The Chairman's Award is the highest award an agent can receive. "I credit my success to a lot of hard work and a technological expertise that gives me the edge over other agents nationwide,"Kris Lindahl said, and continued,"these seminars are where I can put my experience to work."
Call Kris and his team at (763) 607-1415 for more information. Visit the Minnesota Short Sale Calculator website to check eligibility. Download a complimentary copy of the eBook titled "A Homeowner's Guide To Short Sales" and check out the short sale video series on YouTube.