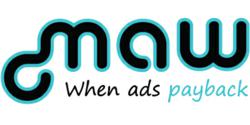 Two in five say they ignore banner ads, and one in five say they ignore search engine ads the most
Clearwater, FL (PRWEB) January 14, 2013
When a 17-year-old male sees an ad for make-up, or a 45-year-old female reads the local paper and sees a flyer for a tool kit, the advertiser may as well have thrown their money away. The ads don't apply to the targeted demographic intended by businesses, so value is essentially lost. MobAdWin (MAW), a mobile application, allows businesses to create a customizable campaign that reaches interested customers only.
According to TechCrunch.com, a survey of approximately 2,100 U.S. adults revealed that over six in ten respondents say they tend to ignore or disregard Internet ads. Among those, two in five say they ignore banner ads, and one in five say they ignore search engine ads the most (1).
One of the reasons ads fail is because the ads do not pertain to the viewer nor fit their needs and wants. To combat this waste, MAW has developed a mobile application to solve that exact problem.
MAW developed the app for businesses. Businesses are able to modify delivery of their advertisements so that the ads can be sent only to certain people, based on profiles created by consumers—which can include age, sex, interest and income. Instead of paying additional costs to do market research based on whom the companies want to promote to, end users simply choose the profiles that best suit their needs. MAW can even localize campaigns so that the ad is sent to the customers when they enter a zone defined by advertiser.
Unlike other internet marketing companies, MAW does not take a cut on the promos/coupons/goodies offered by the businesses which choose to advertise through the app. There is no screening of internet traffic and no installation of cookies, nor are there any other means to build leads. Consumers participate voluntarily and remain in complete control over their information, while guaranteed that their contact information remains completely private. On the business owners' side, the smartphone users are simply anonymous users with parameters.
MAW is the new efficient and respectful way to advertise—where both consumers and advertisers benefit equally.
For more information as a consumer or a business, visit http://www.mobadwin.com.
About MobAdWin:
MobAdWin (MAW) was established by Alexandre Dammous (a licensed attorney in the European Union, certified mediator in the US, and international law consultant, who completed a masters in international law from Stetson and his JD from Université de Liège) and Renaud Migeot (a former senior executive banker with a specialization in securities). Together, these two experienced businessman realized that advertising wasn't working the way they knew it could be. MobAdWin is the first and only Win-Win marketing platform, and is innovative in the mobile marketing world. The users and advertisers interact, with almost all costs shared with the customers. The users earn cash and perks (discounts, special offers, gifts) and decide when and how they receive the ads via smartphone. The advertisers truly interact with the customer base. Currently, MAW is available as a free download on both iOS and Android.
(1) Wauters, Robert. TechCrunch.com. December 3, 2010. "Survey Says: 63% Of You Ignore The Ads On This Very Page". techcrunch.com/2010/12/03/survey-says-63-of-you-ignore-the-ads-on-this-very-page/