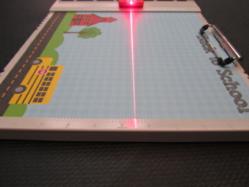 Indianapolis, Indiana (PRWEB) January 11, 2013
Clever Endeavors, LLC, has released SliderWriter™, a multi-patented sliding laser guide for crafting projects. There has been a long-standing need for a crafting tool that brings precision to the designs of scrapbookers, calligraphers and stampers. SliderWriter™ employs a laser to position elements such as photos, embellishments, stamps and handwritten notations on projects. Key to SliderWriter™'s superior design, is the laser that produces consistently dead on alignment and can be re-calibrated at anytime to ensure perfect laser sighting. Without the ability to recalibrate, lasers develop increased tolerance of motion over time and become worthless to the user. The product design has been refined multiple times before coming to market to ensure that the final product exceeds customer expectations.
Other notable features of SliderWriter™ include: an attached work surface that accepts up to a 12" x 12" paper, a paper holder to guard against paper shifting, the opportunity to create vertical margins, the ability to configure for left-handed users, a standard rule and 3/8" calligraphy rule to guide placement of objects, included AAA batteries, and it is conveniently portable weighing only 2 pounds.
Crafting enthusiasts will enjoy using SliderWriter™ to improve the appearance of their designs and to elevate the crafting experience by reducing aggravating revisions and wasted materials.
SliderWriter™ will make its craft show debut in Columbus, Ohio, at the Memories Scrapbooking Expo March 22-23, 2013. Later in the year, SliderWriter™ will make its premier trade show appearance with the Craft & Hobby Association (CHA) Conference and Trade Show, July 22-25, in Las Vegas. In the meantime, product information and video demonstration can be found at http://www.sliderwriter.com. Currently, the product can be purchased via the website or Amazon. Follow SliderWriter™ on Facebook, Twitter and Pinterest.