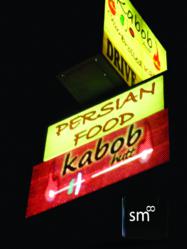 "...we are not professional designers. There is so much valuable time you can spend in other areas of your business. It's just a good investment." Kabob Hutt
Corona, CA (PRWEB) January 16, 2013
When the owners of Kabob Hutt decided to purchase an LED sign for their new Persian restaurant "Kabob Hutt" they didn't expect to be faced with the challenge of operating a very expensive LED, with no support, training or resources.
"We always planned to have an LED sign for our location," explained Lisa Abdi, VP of Kabob Hutt, "But we didn't expect the supplier to go out of business and leave us to fend for ourselves."
According to Ms. Abdi, who owns the business with her husband Eric, getting the sign provider to even produce and ship the LED sign was difficult. After many months of delays and headaches, they finally received the display, but only just before the provider went out of business.
"They just disappeared and we were left in limbo." said Abdi, "We had no training, we had no idea what we were supposed to do... they gave us the software with a laptop so we just internally handled it ourselves, but we are not professional designers."
Kabob Hutt is a unique restaurant that mixes a modern theme with traditional Persian cuisine. They serve a host of items including Vegetarian Dishes, Stews, Salads, and of course, Grilled Kabobs using a variety of meats like Lamb, Filet Mignon, Chicken and even Cornish Hen.
"Our guests are going to get premium food, the best service in town, and they don't have to pay an arm and a leg." explained Abdi. "Advertising this type of information on the LED sign was very important."
Although they struggled with getting good content on the sign, they managed to make do with basic advertisements. The LED sign wasn't working to its full potential so they set out to find a solution. Spectacular Media's new internet based SM Infinity™ service was able provide exactly what they needed, giving them some well deserved relief and assistance with the sign.
SM Infinity™ is the result of a partnership between Spectacular Media and LED sign manufacturer Vantage LED to provide a cloud based service that combines content creation, sign management, and scheduling into one powerful tool. Available to clients 24/7, SM Infinity™ works with virtually any outdoor LED sign and allows organizations to focus more resources on running their business instead of creating content for the sign.
"Once I log in and type in my request, within 24 hours or less, I go back in and the proof is there to check and review. It's a really nice experience...it's so easy." said Abdi.
The content provided by SM Infinity™ is tailored specifically for each client through a simple request and approval process. Clients can communicate directly with the SM designers throughout the process to make sure the content is just right. They can also upload and schedule their own content directly or utilize a library of professionally created stock images and content for their sign.
Advanced scheduling options like day-parting and scheduling groups are fully supported, and because the software resides in "The Cloud", it is always up to date. SM Infinity™ is backed up regularly and access is encrypted giving clients the accessibility of the internet with the security of a local application.
The improved content has resulted in more business and a more effective marketing tool for the restaurant. They reported a surge in clientele immediately within the first week of operation and have been thrilled with the service ever since.
"I would recommend it to anyone, don't even think twice about it." said Abdi, "There is so much valuable time you can spend in other areas of your business. It's just a good investment."
-
Spectacular Media (the 5th Element of Digital Advertising) is a software savvy, social advertising company.
They want to create a perfect synergy between these 4 elements: the Business and their People; their Advertising and their Digital Display.
With the premier release of SM Infinity™, cloudware for comprehensive digital advertising, they aim to meet the advertising demands of the LED digital display market (and more) creating a synergy between the establishment and patron.