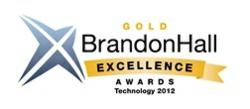 "Our LMS was specifically designed to handle education tied to regulatory and compliance requirements for every level of senior care staff—from frontline caregivers to management personnel." - Tamar Abell, President of Care2Learn
Tampa, Fla. (PRWEB) January 10, 2013
Care2Learn, the leading provider of online education, compliance training and record-keeping for the senior care industry, was awarded the coveted Brandon Hall Gold award for Best Advance in Learning Management Technology for the Compliance Training category for 2012. The award recognizes Care2Learn's Learning & Performance Engine (LMS) for breakthrough innovations, unique differentiators, value propositions and measurable results.
"Care2Learn is excited to be recognized for our advances in this field," said Tamar Abell, President of Care2Learn. "Our LMS was specifically designed to handle education tied to regulatory and compliance requirements for every level of senior care staff—from frontline caregivers to management personnel."
The entries were evaluated by a panel of veteran, independent senior industry experts, and Brandon Hall Group Senior Analysts and Executive Leadership, based on the following criteria:

Product: Care2Learn offers fully hosted, branded online universities for consistent staff training—as well as custom course content, webinar development, and logistics services tailored to each client. In addition, Care2Learn handles all state licensing board and professional organization accreditation steps from start to finish, including application preparation, submission, renewal, and reporting.
Unique Differentiators: Care2Learn's course library surpasses any other in the industry in depth and breadth of content. More than 1,000 hours of courses and inservices have been developed by top subject matter experts and feature the latest in eLearning technology—including audio and video elements, games and activities, and real-life scenarios to immerse the student in the learning process and ensure retention.
Value Proposition: Care2Learn understands that compliance extends beyond licensed care providers to an organization's entire staff and serves more senior care professionals in more disciplines than any other online education provider.
Measurable Results: More than 4,000 facilities have achieved their organization-wide training goals with Care2Learn's customized online universities—resulting in higher clinical and compliance outcomes.
"Our online university solution is always being refined for better user experience. We've worked hard to build a state-of-the-art LMS that offers individual courses as well as large-scale corporate training and compliance management solutions featuring customizable and easily accessible online universities and a full range of tracking and reporting features, "said Scott Roan, Vice President of Information Technology (IT) at Care2Learn.
The Care2Learn Learning & Performance Engine (LMS) organizes education into one central location, is easy to use, delivers individualized training tailored to specific job roles, simplifies CE completion for licensed staff, and offers administrators robust tools for tracking, managing and reporting on training and education activities.
"It is our honor to recognize this year's award winners, who exemplify the commitment to innovation and excellence that drives growth and over-the-top business results," said Mike Cooke, Chief Executive Officer of Brandon Hall Group, Inc.
About Care2Learn
Care2Learn delivers superior online education and training for the senior care industry and holds more than 70 state and national accreditations. Through its award-winning healthcare Learning & Performance Engine, Care2Learn offers individual courses as well as large-scale corporate training solutions for healthcare organizations featuring customizable and easily accessible online universities with a full range of tracking and reporting features. With an online library exceeding 500 courses authored by more than 150 subject matter experts, Care2Learn serves more than 300,000 healthcare professionals in all 50 states and Canada. Founded in 2000 and acquired in 2007 by eLearning provider VectorLearning, Care2Learn is headquartered in Tampa, Florida and is the recipient of numerous community honors and industry rewards. In 2012 Care2Learn merged with healthcare eLearning and record-keeping provider Upstairs Solutions to provide even more products and services for its online users. For further information, visit http://www.Care2LearnEnterprise.com.
About Brandon Hall Group, Inc.
With more than 10,000 clients globally and 20 years of delivering world class research and advisory services, Brandon Hall Group is the most well-known and established research organization in the performance improvement industry. We conduct research that drives performance, and provides strategic insights for executives and practitioners responsible for growth and business results. Brandon Hall Group has an extensive repository of thought leadership, research and expertise in Talent Management, Learning and Development, Sales Effectiveness, Marketing, and Executive Management.
###