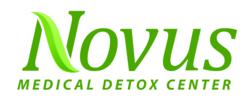 Our facility assists people from all over the United States to get their lives back— not just Floridians. I feel for Georgia residents who are being threatened with the same pill mills that ravaged [Florida] individuals
NEW PORT RICHEY, FL (PRWEB) January 14, 2013
Florida residents may be relieved to know that the powerful crackdown on pill mills (facilities illegally prescribing and selling narcotic prescription drugs) is working. Nearly half of the pill mills in the Sunshine State have been shut down, but Novus Medical Detox, a drug detoxification facility with a 90% patient completion rate, warns people that while the illegal drug providers may be vanishing from the area, the repercussions for Floridians may come in the form of painful withdrawals.
Statistics reported by the Wall Street Journal revealed that more than 16,500 people die every year in the U.S. due to overdosing on opioid painkillers (those sold via the illicit pill mills), currently making them the nation's deadliest drugs, outpacing heroin and cocaine combined (1). With that many people taking drugs, the disappearance of pill mills is only one step to solving the epidemic that is now spreading to other states.
Since Florida's efforts began against the unlawful sales of prescription drugs, Georgia now has 125 such clinics compared to fewer than 10 in 2010, according to the Georgia's Drug and Narcotics Agency (1). Novus' Director, Kirk Burness, says that not all Floridians who had access to the local pill mills will be able to travel to Georgia. While that may seem like a good thing, Burness warns that withdrawal from opioids is an extremely dangerous process and should not be done "coldturkey".
"Residents in Florida who once used those pill mills to aid their addictions will experience dangerous and sometimes deadly withdrawal symptoms if they cannot obtain their meds," Burness commented. "I only hope that the declining number of pill mills kick-starts people's decisions to enter into a healthier, drug-free life —and that's where we can help."
For those individuals who are looking to detox safely and comfortably, Novus Medical Detox has individualized treatment plans which are tailored to their patient's needs. Novus uses state-of-the-art medical protocols in combination with natural supplements, nutritious meals and extensive use of nutrient-enriched IV treatments, all of which together enable the detox process to be as painless as possible. Novus' proprietary vitamin cocktail is an advanced medical discovery that allows Novus to handle the toughest of prescription drug cases — those that other drug detox facilities will not accept.
Novus' detox programs have a high success rate due to their medical team being skilled in keeping patients from getting sick during the withdrawal process — a dread worse than death to most addicts. Novus' branded detox process leads to many completing detox in under two weeks. Patients have 24/7 access to nursing care and withdrawal specialist assistance.
"Our facility assists people from all over the United States to get their lives back— not just Floridians. I feel for Georgia residents who are being threatened with the same pill mills that ravaged [Florida] individuals," Burness added. "Even so, we can help."
To learn more about the Novus Medical Detox Center and its drug and addiction detox programs, visit http://www.NovusDetox.com.
About the Novus Medical Detox Center
The Novus Medical Detox Center offers safe, effective alcohol and drug treatment programs in a home-like residential setting. Located on 3.25 tree-lined acres in New Port Richey, Fla., Novus is licensed by the Florida Department of Children and Families as an in-patient medical detox facility. Novus is known for minimizing the discomfort of withdrawal from prescription medication, drugs and alcohol by creating a customized detox program for each patient, incorporating medication, natural supplements and fluid replenishment—putting dignity and humanity back into drug detoxification. Patients have 24/7 medical supervision, including round-the-clock nursing care and access to a withdrawal specialist, and enjoy comfortable private or shared rooms with a telephone, television, DVD player and high-speed Internet access. For more information on Novus Medical Detox Center, visit http://www.NovusDetox.com.
(1) Bizjournals.com. December 26, 2012. "Pill mills flee Florida for Georgia." bizjournals.com/southflorida/blog/morning-edition/2012/12/pill-mills-flee-florida-for-georgia.html