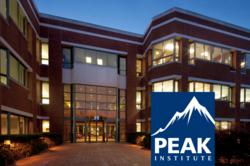 We want to promote the vision of a stronger, more highly-skilled local workforce to attract more businesses to the area and, as a result, strengthen our community.
Midlothian, VA (PRWEB) January 09, 2013
The PEAK Institute, a Midlothian based Technology Training and Testing Institute, has announced its partnership with Kryterion Inc to establish a Kryterion Authorized Testing Center, which is now open to the public. Located at 1 Park West Circle near the intersection of State Route 288 and Lucks Lane, the PEAK Institute is now scheduling exams during open business hours, Monday through Friday from 8am to 5pm.
As the PEAK Institute continues to expand its offering of technology training and secure, proctored testing services in Midlothian, the institute is excited to share its partnership with Kryterion, a trusted authority in testing and examination services.
As a Kryterion High Stakes Online Secure Testing (HOST) Location, the PEAK Institute is now equipped to deliver exams for a variety of technical and professional disciplines. The Kryterion approved testing center at the PEAK Institute offers the latest and fastest testing computers, featuring Xeon processors and solid state drives (SSD) with high-speed Internet connections. Each testing station provides 4' of desk space and a 24" LED screen to provide a comforting and calming testing experience. For extended tests, a library sitting area and modern lounge are available during breaks. Each test taker is provided a secure locker for all of their personal belongings, with the option of full-sized lockers that can easily fit a coat or purse.
"The PEAK Institute is committed to providing the Greater Richmond area with the opportunities and facilities to promote personal and professional development, which in turn benefits the local economy," said Joe Elias, Vice President of Marketing and Media for PEAK Institute. "We want to promote the vision of a stronger, more highly-skilled local workforce to attract more businesses to the area and, as a result, strengthen our community. The opportunity to include Kryterion as a partner in our testing center allows anyone on the south side of Greater Richmond to easily find a place to take a secure test."
FOR MORE INFORMATION
PEAK Institute
Joe Elias
Vice President of Marketing and Media
804.384.9922
JElias(at)PEAK-Institute(dot)com
Kryterion Inc
Bradley Larson
Manager of HOST Recruitment
602.659.4700
BLarson(at)KryterionOnline(dot)com
About PEAK Institute
The PEAK Institute is a modern, innovative technology and business training institute that provides personalized learning programs and professional certifications using the latest technology, equipment and delivery methods.
PEAK Institute is Greater Richmond's answer to the need for a highly qualified, industry certified technology center. With a state-of-the-art testing facility and certification by Certiport and Kryterion as an authorized testing center, the institute features large, highly flexible training rooms and professional meeting space. Whether interested in holding a single meeting or establishing a recurring program that needs modern space with the right technological capabilities, local organizations will find that the PEAK Institute staff is here to help.
About Kryterion
Kryterion is a full-service test development and delivery company that serves the education, association, and technology markets with world-class secure testing solutions. Established in 2001, Kryterion was the first to develop online proctoring and offers a variety of product solutions to customize your online testing experience.