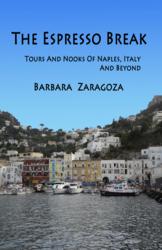 I'd like to propose that the sights in the following pages and their stories are mostly myth, juicy folklore and creative archeological license that allow you to create your own narrative.
Chula Vista, CA (PRWEB) January 11, 2013
On January 1, 2013, The Espresso Break: Tours and Nooks of Naples, Italy and Beyond (ISBN Number 978-0-9835099-2-9) hit the #1 Amazon Best Seller list for Naples, Italy travel guides, ahead of Rick Steves and Frommer's.
The guide, a boutique product created by Zaragoza after three years of exploration and blogging about the Campania region, is unlike other travel books because it provides visitors and expats with themed tours and off-the-beaten-track nooks.
"I couldn't be more thrilled," says Zaragoza, "especially since Naples gets such negative press about mafia crimes and trash problems. What most people don't know is that Naples is one of the oldest cites in the Western World and deserves to be a destination along the route of every Italy tour."
The Espresso Break re-creates the Neapolitan cultural feel of the city (old is better) by peppering the chapters with culinary tips and even adding a Neapolitan caffè tour that maintains coffee drinking in Campania pre-dated the use of the beverage in the whole of Europe by several hundred years.
The book was additionally intended for the more than 12,000 military personnel and English-speaking expats living in the Campania region. For those who live there, tours and nooks can be enjoyed on the weekends, so that people can see the city again and again, each time collecting a bit more historical, archeological and mythical knowledge. There are also five sections scattered throughout the book referred to as "And Beyond" which give details of off-the-beaten-track jaunts throughout Italy that expats can enjoy for a weekend trip or travelers can easily add on to a Naples vacation.
About the Author:
Barbara Zaragoza is a travel writer who has an A.M. degree from Harvard University in European history. She enjoys off-beat adventures that tie local history and cuisine together with travel. She has learned around seven languages (piu o meno) and has traveled through 21 countries in Europe, 36 States of America, and five continents.