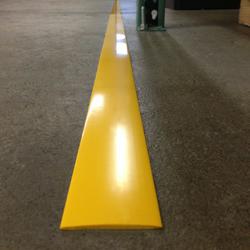 "There is no other type of floor tape that works as well as the SafetyTac Armor. We have yet to replace the tape since installation. It is a great product!"
Lake Oswego, OR (PRWEB) January 23, 2013
Large manufacturer and car manufacturer facilities require heavy duty floor marking tape that will hold up under the harshest forklift and truck traffic situations. Creative Safety Supply is now offering SafetyTac Armor floor marking tape that is considered to be the #1 rated marking tape for industry's toughest environment.
SafetyTac Armor has a strong rubber based adhesive that will stick to most surfaces and will not come up until the time is right. The simple and easy peel-&-stick installation requires no applicator for installing the tape. Unlike paint, there is no dry time, cure time, fumes or messy clean up that may cause productivity downtime. The tape includes a double tapered edge so carts and containers that may have to be slid into a spot will easily slide over the tape without causing it to rip, smear or scratch.
SafetyTac Armor is noted to be the thickest most durable tape on the market for marking off areas on the floor. The tape is a great product for safety programs and lean manufacturing improvements. The tape is available in yellow, blue, green and red colors for marking hazard and warning areas properly according to OSHA color standards. By marking off areas for storage of inventory or machinery is one way of creating a lean manufacturing facility. Employees will know exactly where products and machines are to be put back when a job has been completed. No more wasting time guessing where something is and where it should be returned.
A business owner of a large manufacturing plant commented, "There is no other type of floor tape that works as well as the SafetyTac Armor. We have yet to replace the tape since installation. It is a great product!"
For more information about SafetyTac Armor floor tape, please visit http://www.creativesafetysupply.com/safetytac-armor/ or call toll-free (866)777-1360 to speak with a professional representative.