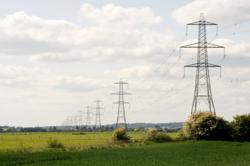 In a project of this size and in some of Britain's most picturesque places, it is vital for National Grid to safeguard the landscape by using ground protection solutions as it buries transmission lines
UK (PRWEB UK) 10 January 2013
Ofgem said National Grid has not only undertaken to bury hundreds of miles of cables between 2013 and 2021, but will also avoid running 50 metre high pylons through beauty spots like the Peak District, the New Forest and South Downs National Parks and Areas of Outstanding Natural Beauty in Gloucestershire and Oxfordshire.
'In a project of this size and in some of Britain's most picturesque places, it is vital for National Grid to safeguard the landscape by using ground protection solutions as it buries transmission lines,' said Timbermat's Managing Director, John Roberts.
'Contractors are also extremely aware that they can't let boggy, uneven or poor ground conditions stop them from working to schedule, and they have to consider the health and safety aspects of workers while also safeguarding plant and machinery.'
Timbermat has invested heavily to increase its stock to one of the largest in the UK in anticipation of the recent announcement and to enable it to meet the demand of National Grid and other such companies and organisations.
Mr Roberts added: 'Portable roadways not only provide much needed stability on rough, boggy and uneven surfaces, but also offer a grip for vehicles' tyres in wet or wintry weather conditions.'
For more information contact Timbermat on 0161 442 3157 or visit the website http://www.timbermat.co.uk
Editor's Notes
News of the recent announcement can be found in RIIO-T1: Final Proposals for National Grid Electricity Transmission and National Grid Gas Final decision – Overview document, published 17 December 2012 at http://www.ofgem.gov.uk. See also http://www.cpre.org.uk