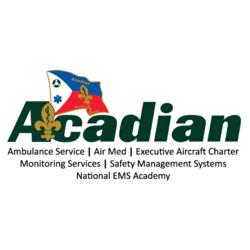 More than 40 years ago, our goal was to provide excellent medical care through improved communications. We are thankful to the Robert Wood Johnson Foundation for providing funding that was crucial to our mission of saving lives.
(PRWEB) January 09, 2013
Acadian Ambulance was recently featured in The Robert Wood Johnson Foundation's Force Multiplier campaign. The campaign, which is part of RWJF's 40th anniversary commemoration, highlighted only 21 of the Foundation's best and brightest initiatives that have helped revolutionize the health care industry. RWJF is the nation's largest philanthropy devoted solely to the public's health.
Acadian was one of the Foundation's first grantees and the two organizations have enjoyed an extensive history. The Foundation provided funding to the Louisiana Hospital Association in the 1970s, which in turn was granted to Acadian Ambulance as a portion of the start-up money for Acadian. In 1974, through another grant to the LHA, Acadian Ambulance was able to develop a system which allowed ambulances to communicate to hospital emergency rooms by radio, establishing an effective regional emergency communications system. In 1976, a cardiac medic training program also funded by the Foundation allowed the transmission of telemetry from the scene of a heart attack to hospital emergency rooms, and many Acadian medics were selected to participate in the revolutionary program. Even Acadian Ambulance's first dispatch center, which was recognized as an industry leader and became a model for other services across the nation, was partly funded by RWJF.
The Foundation saluted Acadian Ambulance for being "on the leading edge of creating the 911 network we depend on today." On behalf of RWJF, Gwen McKinney, president of McKinney & Associates, said, "As one of RWJF's first grant recipients, we applaud how you innovatively created our nation's emergency system known as 911. It has effectively improved the way our country responds and delivers emergency care to its people."
"More than 40 years ago, our goal was to provide excellent medical care through improved communications," says Acadian CEO and Chairman Richard Zuschlag. "We are thankful to the Robert Wood Johnson Foundation for providing funding that was crucial to our mission of saving lives."
Because of RWJF's unwavering commitment to improving the nation's health, Acadian Ambulance has been able to flourish beyond ways ever imagined. They are now one of the largest ambulance services in the nation, offering emergency and non-emergency transportation to areas in Louisiana, Texas and Mississippi. In the past decade, the company has expanded to include a diverse suite of services in health, safety, and transportation under the moniker of Acadian. They now consist of six divisions: Acadian Ambulance Service, Air Med, Executive Aircraft Charter Service, National EMS Academy, Acadian Monitoring Services and Safety Management Systems.
###