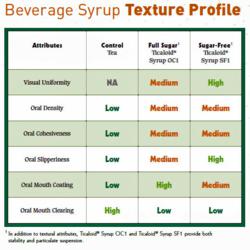 "By substituting gums into sugar free or reduced sugar products, the texture lost when dissolved solids are omitted can be very closely mimiced," said Maureen Akins of TIC Gums.
White Marsh, MD. (PRWEB) January 11, 2013
It's January and resolutions for cutting calories to lose weight are as common as snowflakes in Michigan. So the January, 2013 edition of "Does This Have Gum In It?" is as topical as it is informative. This and any of the programs can be seen on the TIC Gums web site (http://www.ticgums.com) or the Gum Guru® You Tube channel at http://www.youtube.com/ticgumguru.
There are lots of well-known reasons why people in the U.S. and western societies in general, weigh more than is ideal. And plenty of people try to reduce their calorie intake by lowering the amount of sugar in their diets.
Replacing sweetness in beverages and syrups is easy enough with ingredients like stevia or aspartame. But sugar, honey, or corn syrup delivers more than sweetness. Sugar in beverage and liquid applications is a dissolved solid and those solids bring with them texture and stabilization qualities that are lost when artificial sweeteners are substituted. It's replacing those attributes that is the subject of this months' edition of "Does This Have Gum In It?"
The video demonstrates how food scientists at TIC Gums used hydrocolloids to replace the texture and stabilization lost when sugar is reduced or removed completely. Dissolved sugar not only helps stabilize particulates in beverages, but it also thickens, and contributes to mouth and palate coating that are all important parts of the consumer experience.
Gum Guru Maureen Akins describes how the tools available from the Texture Revolution® were used to characterize the desired textural attributes in samples of a fully sweetened tea for translation to one that was unsweetened. While viewers will not experience the flavor and taste sensations, they will see the benefits of using the Texture Revolution lexicon and the usefulness of verbal agreement on the ways texture is described. When formulators concur on descriptive texture terms, the development process is shorter. Developers have the opportunity to "map" the way gum systems can closely mimic the texture of traditionally sweetened beverage syrup.
The mapping process delivers actionable feedback early in the development process that yields products consumers will embrace more quickly than had the process not been used.
Developers have long known about the importance of texture, but were too often adjusting it at the end of a project. It is very difficult to add texture back in to a finished product. By making texture design part of the development process, time and money are saved.
To learn more about how the Texture Revolution can benefit you and your business, visit the web site at: http://www.ticgums.com/texturerevolution.
About TIC Gums
TIC Gums is a global leader in advanced texture and stabilization solutions for the food industry. Food and beverage companies rely on TIC Gums to improve the texture, stability, consistency, nutritional profile, and shelf appeal of their products. Legendary customer service, high quality standards, and the unrivaled knowledge of our Gum Gurus® have made TIC Gums the industry leader for more than 100 years.