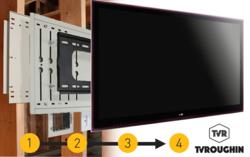 Seattle, Washington (PRWEB) January 10, 2013
TVroughin aims to change the way in which televisions are installed. The recent release of the TVR offers a pre-drywall solution for television mounting that allows homeowners and tenants to install their own television virtually tool and worry free.
"After years of dealing with the hassles of television mounting as a general contractor, I created the TVR in order to provide a single turn-key solution to television mounts that benefits contractors and homeowners alike," says Mark Martin, co-inventor of the TVR.
The TVR is the only television mount system that addresses the mounting requirements for flat screens during construction and before drywall is installed. The TVR attaches directly to the framing members, insuring strong and safe connections and eliminating the time and building materials typically needed for extra blocking. The TVR's attached cabling compartment allows all AV and electrical wiring to be placed for the television before drywall is installed.
Once installed, mounting a flat screen television with the TVR is simple and can be done in a matter of minutes with household tools. With the TVR, homeowners can now to install their own flat screen television and tenants can install televisions without endangering their damage deposit.
The introduction of the TVR finally provides an easy solution for designers and builders to provide clients the ultimate flexibility in mounting their televisions while offering a completed system for television install. As a secure, do-it-yourself product, the TVR saves residents time, money, and headaches now that anyone can easily install a flat screen television.
The TVR is now for sale online with special pricing available through January 31, 2013. Find our more about the TVR at http://www.tvroughin.com.
_______________
TVroughin, founded in 2012, is headquartered in Seattle, Washington. TVroughin's team of sales and distribution networks provide television infrastructure, mounts, and installation for both commercial and residential development.