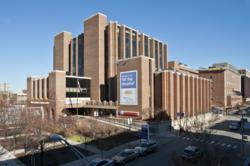 There is no magic bullet. It's lots of littel things, built upon one another, that makes the difference.
Chicago, Ill. (PRWEB) January 11, 2013
Advocate Illinois Masonic Medical Center, the first hospital in Chicago to have earned the U.S. Environmental Protection Agency's (EPA) prestigious ENERGY STAR in 2008, has again earned the national symbol for superior energy efficiency and environmental protection for 2012. Only three other hospitals in Illinois and 53 in the nation earned the honor in 2010.
The medical center now uses less energy per square foot than nearly every hospital in the nation, according to data from the EPA's ENERGY STAR database. The corresponding reduction in greenhouse gas emissions equates to removing approximately 3,400 cars from the road this year. Only 170 U.S. hospitals have been recognized since the program's inception in 1992.
"People always ask 'What is the one thing that put you over the top (for ENERGY STAR designation)?" said Joe Buri, manager, energy solutions, for Advocate Health Care. "But there is no magic bullet. It's lots of little things, built up on one another, that makes the difference."
Buri said the difference he sees at Advocate Illinois Masonic is in the culture of the staff. "There's no one person that's responsible for energy conservation here. Everyone is involved. Everyone is an energy champion."
Tom Baumstark, manager of Maintenance Operations at Advocate Illinois Masonic, agrees.
"I would say we've definitely undergone a culture shift among staff when it comes to saving energy and being green," he said. "Staff throughout the hospital, at all levels, bring new ideas forward. We always have energy on our minds whenever we approach a project."
Baumstark said the achievement of a fifth consecutive year as an ENERGY STAR rated facility is even more impressive, given the fact that much of the Advocate Illinois Masonic facility is 100 years old.
Commercial buildings and industrial plants that rate in the top 25 percent of facilities in the nation for energy efficiency may qualify for the ENERGY STAR. Advocate Illinois Masonic has maintained its improved energy performance by managing energy strategically across the entire organization and making cost-effective improvements to the hospital's buildings over the past several years.
"This takes time. It didn't happen overnight," Buri said.
To earn the ENERGY STAR designation, Illinois Masonic focused on energy efficiency. Some improvements made over the last three decades include:

Retrofit of the facility's air handlers to variable air volume systems, minimizing energy consumption during low-demand periods.
Installation of hundreds of occupancy sensors which turn lighting off in corridors, conference rooms and offices when not in use.
Installation of lighting controls in areas where there is adequate natural light.
Installation of a high-efficiency, computerized boiler, which monitors discharge gasses, sets maximum burner efficiencies and minimizes exhaust gas discharges.
Retrofit of high-efficiency lighting where possible, including the use of LED lamps, compact fluorescent lamps and T-8 and T-5 fluorescent lamps.
Utilization of technology to monitor and control heating, ventilating and air-conditioning system to maximize efficiency, including automation systems, optimization software and variable frequency drives for pumping.
EPA's national energy performance rating system provides a 1-100 scale that helps organizations assess how efficiently their buildings use energy relative to similar buildings nationwide. A building that scores a rating of 75 or higher is eligible for the ENERGY STAR. Commercial buildings that can earn the ENERGY STAR include offices, bank branches, financial centers, retailers, courthouses, hospitals, hotels, K-12 schools, medical offices, supermarkets, dormitories, and warehouses.
ENERGY STAR was introduced by EPA in 1992 as a voluntary, market-based partnership to reduce greenhouse gas emissions through energy efficiency. Today, the ENERGY STAR label can be found on more than 50 different kinds of products, new homes and commercial and industrial buildings. Products and buildings that have earned the ENERGY STAR designation prevent greenhouse gas emissions by meeting strict energy-efficiency specifications set by the government. In 2006, Americans, with the help of
ENERGY STAR, saved about $16 billion on their energy bills while reducing the greenhouse gas emissions equivalent to those of 27 million vehicles. For more information about ENERGY STAR, visit http://www.energystar.gov.
About Advocate Illinois Masonic Medical Center
Advocate Illinois Masonic Medical Center is a 408-bed hospital in Chicago with a Level I trauma center and a Level III Neonatal Intensive Care Unit, the highest designations awarded by the state of Illinois. It offers comprehensive inpatient services, including medical, surgical, obstetrics and pediatric care, as well as a full breadth of outpatient services. A recipient of numerous awards for quality and clinical excellence, Illinois Masonic was ranked one of the nation's 100 Top Hospitals in 2010, 2011 and 2012 by Thomson Reuters, as well as named a recipient of the organization's Everest Award for National Benchmarks in 2010. The medical center has also been named a Leader in the Human Rights Campaign's Healthcare Equality Index for the past four years, as well as one of the Chicago region's Best Hospitals by U.S. News & World Report for the past two years. In 2012, the hospital achieved Magnet redesignation for excellence and quality in nursing services by the American Nurses Credentialing Center's Magnet Recognition Program, which it originally achieved in 2008. Illinois Masonic is part of Advocate Health Care, a 2009 and 2010 Thomson Reuters Top 10 U.S. health care system for quality and clinical performance and the largest provider of health care services in Illinois. For more on Illinois Masonic, visit http://www.advocatehealth.com/masonic.