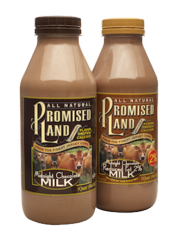 "Wow! This is some GREAT chocolate milk!" I'm not sure how you do it, but I've never had a chocolate milk that good in my life."- Luke R, NC
Dallas, Texas (PRWEB) January 09, 2013
Promised Land Dairy is now shipping two award-winning Midnight Chocolate milks for new distribution in nine Kroger grocery regions. Quarts of this exceptional all-natural Jersey milk will be in Kroger dairy cases by January 13th, 2013 in Alabama, Arkansas, Georgia, Illinois, Indiana, Kansas, Kentucky, Michigan, Mississippi, Missouri, Nebraska, North Carolina, Ohio, South Carolina, Tennessee, Virginia, and West Virginia.
Available in either homogenized whole or reduced fat 2% varieties, selection may vary by store location. Both of these decadent, rich chocolate milks are loaded with all-natural flavor but have no artificial ingredients or added hormones. Every delicious sip is also gluten-free and certified kosher, making them a wholesome indulgence you can feel good about. We promise you'll taste our tradition of all-Jersey and all-natural quality and care, in every bottle.
Promised Land Dairy began as a local family farm in Texas that produced Jersey cow milk, with no artificial hormones or antibiotics. Today, our premium, all-Jersey milk is available in 26 states through quality grocery companies. Products include all-natural white milks, flavored milks, and cream products. For a map of store locations and more information, visit the Promised Land Dairy website or join us on Facebook. Watch for coupons coming soon to these new distribution areas, and tell everyone you know to get ready for Promised Land Dairy's "heavenly taste that just comes naturally".