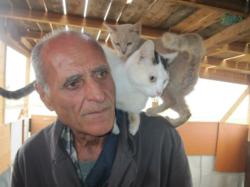 The Romanian shelter receives no help from the government and very few donations from locals
(PRWEB UK) 14 January 2013
Wuffitmix has worked alongside the Soi Dog Foundation for some time providing support in the form of donations from the sales of their dry dog food. Recently Hannah Dugdale the manager of Wuffitmix visited the base of the foundation in Thailand to help care for the mistreated animals and to gain some understanding of the valuable work the foundation do daily.
Now Wuffitmix have discovered another canine charity that they believe will benefit from their generous donations. Wuffitmix will be donating an incredible tonne of dry dog foods including Wuffitmix puppy food to feed the stray and starving dogs of Romania.
The shelter is run by a man named Stefan Marin, who is a resident of Bucharest and has solely taken steps to rescue and repair the unwanted dogs and cats that walk the Romanian streets. Stefan receives no government funding although he is highly respected as his selfless ness and dogged devotion has touched the hearts of many people.
To feed the resident animals that consist of 250 dogs, 70 cats and 30 puppies Stefan needs five tonnes of dog food every month. The shelter is also in dire need of medical supplies and bedding and relies on the fundraising efforts of people such as Kath Raby who is a fundraiser for Romanian strays.
The shelter is growing rapidly and as its reputation grows, locals are dropping off many old, sick and unwanted animals knowing they will be taken care of. The majority of donations come from people from outside of Romania and this is why Wuffitmix have decided to get involved.
As a seller of dog food online, Wuffitmix have a customer base that believes in the fair treatment of animals. In the next few weeks they will begin fundraising to help buy medical supplies and in March Hannah Dugdale will visit the shelter to help.
Hannah encourages people to donate no matter how small she says, "This shelter was brought to my attention by Kath Raby. Stefan lives with all of the sick and unwanted animals and works selflessly to ensure there is a safe place for stray dogs and cats. Many people now dump animals on Stefan's doorstep and of course he can't turn them away. Any donations he receives will help him to give food and medical care to these animals and people can donate easily through PayPal at stefan.crc(at)gmail(dot)com and adding the note 'FOR THE SHELTER.'"
WuffitMix is a range of nutritionally complete diets for working, sporting and domestic dogs - from puppies to seniors. Wuffitmix is owned by Dugdale Nutrition, a family run animal feed manufacturer based in the North West of England. The business dates back to 1850 and spans over 6 generations, with 2 generations currently working at the company premises in Clitheroe, Lancashire.