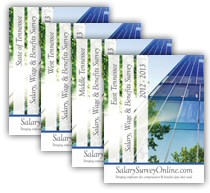 Roughly 76 percent of Tennessee's employers plan on providing merit increases this year.
Knoxville, TN (PRWEB) January 11, 2013
Tennessee employers have survived the Mayan apocalypse, the fiscal cliff, and have ushered in a New Year, but still face more than just a little uncertainty. For many Americans, concerns about the economy and workforce are of great relevance. As for the state of Tennessee, some good news is that unemployment steadily decreased to 7.6 percent in November, slightly lower than the national average of 7.8 percent, according to the Bureau of Labor Statistics.
The 2012-2013 State of Tennessee Salary, Wage and Benefit Survey from Effective Resources, Inc., a leading human resources consulting firm, provisioned data from 193 Tennessee employers who in turn represent and service 2,776,445 US employees and roughly 89,720 that specifically work in the State of Tennessee. Use of SalarySurveyOnline.com, a web-based data collection and reporting system, provides employers with accurate data that will help them compete during this economic recovery.
Among the findings of the 2012-2013 survey of Tennessee's employers:
Roughly 76 percent of Tennessee's employers plan on providing merit increases this year. The state's overall anticipated percentage of 2.8 percent, only slightly higher than the 2.7 percent increase planned last year.
The average monthly employee turnover rate for Tennessee has decreased to 1.5 percent, a significantly lower percentage from the national average of 3.0 percent as of September 2012.
Approximately 25 percent of Tennessee employers reported no increase in medical insurance premiums and 51 percent reported an increase of 10 percent or less. Overall, this is an improvement from last year. Nonetheless, the cost of employee benefits may cause employers to reevaluate this year's benefit package closely with looming health care regulation changes.
In addition to the state's findings, Effective Resources, Inc. has gathered information specifically from East Tenn., Middle Tenn., and West Tennessee.
"We are continuing to grow here in the State of Tennessee and it is hard to believe that we are wrapping up our fourth annual salary and benefits survey," said Barry Brown, President of Effective Resources Inc. "We hope to keep expanding and providing Tennessee employers the data they need to successfully manage their businesses."
The 2012-2013 survey was conducted, tabulated and reported by SalarySurveyOnline.com. To learn more about the surveys, please visit SalarySurveyOnline.com and Effective Resources Inc. for more information.