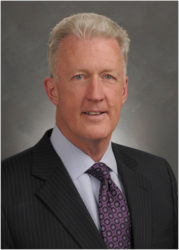 Denver, Colorado (PRWEB) January 11, 2013
John Tatlock, Special Counsel at The Harris Law Firm, is a member of the Colorado Chief Justice's Commission on the Legal Profession's Working Group to improve professionalism and communication throughout the Colorado Bar. As co-chair of the Colorado and Denver Bar Association's Professionalism Coordinating Council, John is one of eleven senior attorneys and sitting judges appointed by Chief Justice Michael Bender who develop and implement plans and programs to increase professionalism and civility within the bar, assist in the training of young lawyers, and work to improve the relationship between the bench and bar. The Professionalism Working Group was instrumental in organizing events for Legal Professionalism Month in October 2012, including the Assembly of Lawyers which brought hundreds of attorneys from across the state to open a dialogue about professionalism, coinciding with the swearing-in of more than 700 new Colorado attorneys.
A three-time Colorado SuperLawyer – for Family Law in 2012 and Business Litigation in 2006 and 2007 – John Tatlock concentrates on complex litigation and appeals in Colorado family law cases. As Special Counsel for The Harris Law Firm, John is a highly skilled trial attorney with more than 20 years of experience representing clients in federal and state courts on complex litigation matters involving significant commercial disputes, mass torts, product liability claims, and securities fraud. In addition, he has represented private equity firms in fund formation negotiations, mergers and acquisitions of fund portfolio companies, and corporate governance issues. The legal rating firm, AVVO, has also recognized John as a Top Rated Family Law Attorney. John Tatlock serves as Special Counsel at The Harris Law Firm, the State of Colorado's largest domestic relations law firm.
About The Harris Law Firm:
Located in Denver and Fort Collins, the 20 attorneys at The Harris Law Firm are a team of Colorado family law attorneys who serve clients throughout the State of Colorado. The lawyers and staff at "Colorado's Family Law Team" are dedicated to helping you with issues related to divorce, child custody, legal separations, step parent adoptions, and other matters that pertain to Colorado family law.