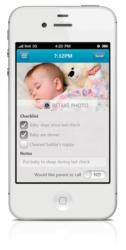 Cherish creates a secure connection between parents and sitters, enabling peace of mind when leaving a child in another person's care
Wilmington, Delaware (PRWEB) January 22, 2013
The newly released Cherish iOS app introduces a new concept in babysitting, enabling parents to enjoy time away from their children without worrying about their little ones. On top of the peace of mind is a truly transparent approach to data security - all information permanently deleted on successful completion of the active session.
The simple user-friendly interface of Cherish enables parents to create a personalized checklist and select intervals for the sitter to check in. The sitter receives notifications each time a check is due and sends completed checks and a photo to the parent's iPhone via a secure connection.
Stork Apps co-founder André Tanguy says, "It's really important to us as a company and as parents, to ensure your private data doesn't fall into the wrong hands, therefore Cherish deletes all data after a session is marked as complete."
Cherish generates a unique, 9-digit code at the start of each session, and when shared with the sitter, a secure connection is established.
Built using the Parse framework, Cherish went from concept to completion in less than 3 weeks. André adds, "We've been really impressed with Parse and are looking at delivering a number of updates to Cherish throughout the year."
One of the key differentiators between Cherish and other private session-based apps is the no-configuration approach. No user account needed, no data stored longer than the session and complete control of your data.
The app is available for free on iTunes and invites parents to two sitting sessions for no charge. In-app purchases for additional sessions are available at the following rates: 3 sessions $0.99, 10 sessions $1.99 and unlimited lifetime sessions $2.99. Sitters sessions are always free.
About Oceans HQ
Cherish is developed under the Stork Apps brand by Oceans HQ, a Delaware based company. The company specializes in creating mobile apps for parents. A resident midwife with 25+ years experience is an integral part of the team. Other apps include Baby's Here – a guide to help new parents, and Contraction Help, a support tool for mothers going into labor. For more information about Oceans HQ, visit http://www.oceanshq.com