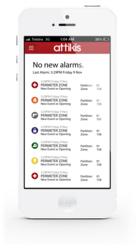 Alarm Monitoring is the only effective watchdog when a property is unattended.
Los Angeles, CA (PRWEB) January 12, 2013
Most homes and businesses are left unattended for large parts of the day while their occupants work, rest and live. That's why Attikis has developed around-the-clock monitoring to keep properties secure with instant alerts that reach anywhere in the World – that's Attikis.
Attikis provides informative Phone Calls, SMS Messages, E-mails and Push Notifications on iPhone or iPad devices when an alarm is triggered, easily defined through the Attikis app to match the type of alarm – and all sent within a matter of seconds after being triggered.
The free Attikis app can be downloaded from the App Store and there are no fees. It provides secure and easy access to:

Monitor an alarm system, keeping a tab on a home or business while away.
Notify when there's an intrusion or emergency by Phone Call, SMS, E-mail and Push Notification.
Connect to an existing security alarm or purchase a new inexpensive one to use.
Receive descriptive alerts in seconds.
Customize responses to match the type of alarm.
Get started with Attikis for iPhone today. For more information on Attikis' new app, check out http://www.attikis.com.
Attikis is available in the United States, Canada, United Kingdom, Australia, Italy, Poland, Austria, Belgium, Denmark, Finland, France, Ireland, Netherlands and Sweden.